For the year 2009, Audi has remodeled its sporty top models in their midsize class – the S4 and the S4 Avant. Their engine, a three-liter V6 with direct duel injection and mechanical turbo charging, delivers an unquestionable 333 hp. It can accelerate the S4 to 100 km/h in just 5.1 seconds but on average only using 9.7 liters of fuel per 100 km.
Upon the request, the Audi can equip the new S4 and S4 Avant with innovative technologies that can further their increasing lead over the competition. The transmission structures of these cars are continuously active, but only one is powered at a time by the engine. The shifting process takes place as the clutch changes – K1 opens and K2 closes with lightning speed.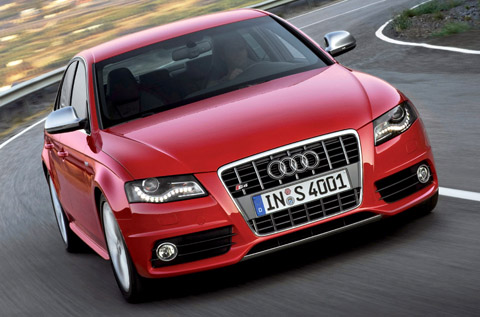 It is so smooth and quiet that the driver will hardly recognize it. In driver safety, the dynamic steering assists the ESP stabilization program by using steering intervention to keep the new S4 and S4 Avant on track when at the handling limits. In regard to multimedia, Audi offers an attractive technology package. The communications and entertainment technologies portfolio includes the high-end MMI operating system, various types of radio and sound systems all the way up the high-end solution, an iPod interface, and a highly convenient Bluetooth car phone.