The Audi S4 Avant is a high performance sports car launched in the year 1999.
The body of the S4 is made of aluminum and the appearance of the car looks a bit muscular.
The Audi S4 consists of a 3.0L V6 TFSI engine with a capacity of 2995 cc. The engine delivers an output power of 333 hp and 324 lb-ft torque at 2500 rpm. The S4 reaches the speed of 62 mph in 5.1 seconds and the top speed is 155.34 mph.
The S4 features a specially designed seven-speed S tronic transmission and it makes use of two multidisk clutches to control the gears. The K1 clutch controls 1, 3, 5 and 7 gears and the K2 clutch controls the 2, 4 and 6 gears. The gear shifts can be performed easily and smoothly even at higher loads.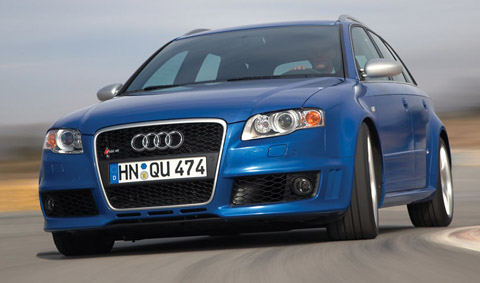 The S4 features standard 18-inch wheels and 19-inch wheels are available optionally. The wheels features black brake calipers which ensures safety gripping and better handling even at higher speeds.
The exteriors feature the aluminum mirrors, 18-inch wheels and xenon headlights and tail lights which gives a great intensity of light at nights. The interiors feature the three zone automatic air conditioning system, navigation system, Bang & Olufsen audio system, iPod interface, adaptive cruise control, radio and Audi parking system with cameras.
Specifications
Vehicle Type: 4-door Sports car
Configuration: Front Engine
Engine: 3.0L V6 TFSI
Torque: 324 lb-ft at 2500 rpm
Horsepower: 333 bhp
Transmission: 7-Speed S Tronic
0-62 mph: 5.1 sec
Top speed: 155.34 mph
Test Drive In Audi S4 Avant