The 2009 Audi S3 is a high performance sports car and it is considered as the second highest model in the world market for the year 2009.
The Audi S3 consists of a 2.0 TFSI engine that delivers an output power of 265 hp and 258 lb-ft torque at 5000 rpm. The S3 reaches the speed of 62 mph in 5.7 seconds and the top speed is 155 mph.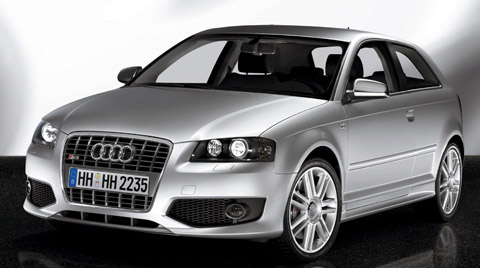 The S3 features six speed manual transmission and the gear shifts can be done easily even at higher loads. It consists of 18-inch wheels with 17-inch disc brakes and black brake calipers.
The exteriors features xenon headlamps and aluminum pedals that gives a sporty look. The interiors features sporty leather seats, navigation system and air conditioning system.
Specifications
Vehicle Type: 2-door Sports car
Configuration: Front Engine
Engine: 2.0 TFSI
Torque: 258 lb-ft at 5000 rpm
Horsepower: 265 bhp
Transmission: 6-Speed Manual
0-62 mph: 5.7 sec
Top speed: 155 mph
Audi S3 Review