The Audi Q7 V12 TDI is a high performance passenger vehicle and is the most powerful diesel-engined SUV in the world.
The body of the Audi Q7 V12 TDI is made of aluminum and the appearance is a bit muscular with the high side panels.
The Audi Q7 V12 TDI features a V12 diesel engine with a capacity of 5934 cc. The bore measures 83 mm and the stroke measures 91.4 mm. The engine delivers an output power of 500 bhp and 737 lb-ft torque at 3250 rpm. The RS6 reaches the speed of 60 mph in 5.5 seconds and the top speed is about 155 mph.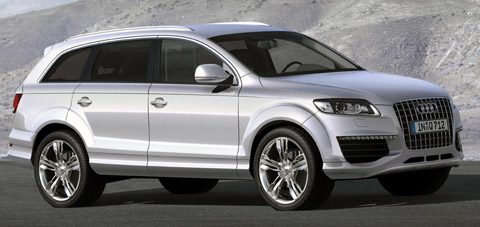 The V12 TDI is equipped with six speed tiptronic transmission which is specially designed for this car. The gear shifts can be performed easily and smoothly even on higher loads.
The V12 TDI features 20 inch alloy wheels with 20 spokes which are made of ceramic. These wheels contain the ventilated discs which consist of eight piston calipers on the front and four piston calipers on the rear. These discs ensure better handling and grip even at higher speeds.
The exteriors feature the bi-xenon headlights and taillights which gives a high intensity of light at nights. The interiors feature the adjustable spot seats covered with Verano leather, Bose Surround Sound System, Bluetooth, navigation system, multimedia system which features iPod connection point and Audi parking system with a camera.
Specifications
Vehicle Type: 4-door SUV
Configuration: Front Engine
Engine: V12 diesel engine
Capacity: 5934 cc
Torque: 737 lb-ft at 3250 rpm
Horsepower: 500 bhp
Transmission: 6-Speed Tiptronic
Length: 5063 mm
Width: 2000 mm
Height: 1737 mm
0-62 mph: 5.5 sec
Top speed: 155 mph
Audi Q7 V12 TDI Overview