The 2009 Abt Audi AS5 Cabrio is a high performance sports car with a retractable hardtop.
The AS5 Cabrio features a powerful engine that gives a comfort and smooth driving. The AS5 Cabrio features retractable hard top and it can be opened or closed within a few seconds. When the hardtop is in closed position, the temperature in the car would be extremely cool and gives an enjoyable drive.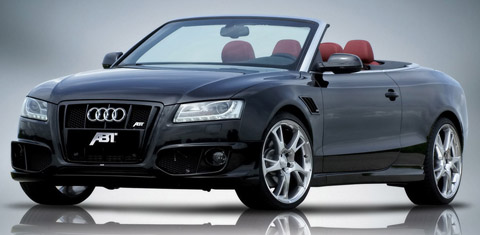 The AS5 Cabrio features a powerful 2.0 TFSI engine with ABT Power S technology. The engine also features four pipe exhaust unit and electronic engine system that controls the car at all conditions. The engine delivers an output power of 180 bhp and it handles the car safely and delivers comfort driving.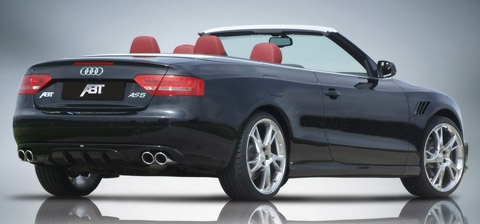 There is a choice for 19 or 20 inch alloy wheels and these wheels are wrapped with high performance tires. The wheels feature high performance ABT braking system with piston calipers on the front and rear wheels, which ensure safety braking of the car at higher speeds.
The exteriors feature the retractable hardtop, mirrors, fog lights and headlights. The interiors feature the sporty steering wheel, leather seats and instrument panels.


Specifications
Vehicle Type: – 2- door sports convertible
Configuration: – Front Engine
Engine: – 2.0 TFSI
Power: – 180 bhp