The Audi TT Roadster is a high performance sports car and it features impressive body structure for stunning sporty performance.
The body of the TT Roadster is made of aluminum and steel where 58% of the body is made of aluminum and 42% percent of the body is made of steel. The steel components are situated in the rear of the roadster to ensure equal load that is to be distributed equally on the axles. The roadster consists of side sills which feature aluminum sections containing a number of ribs.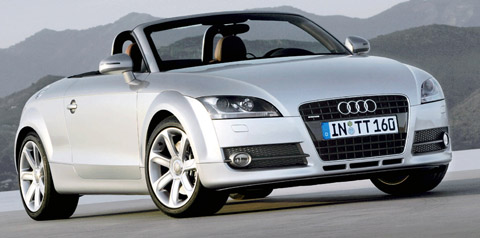 The roadster features an electrohydraulically soft top made of aluminum and steel. This soft top is operated by a touch of a button and it can be opened or closed in just 12 seconds.
The roadster features a V6 engine with a capacity of 3189 cc. The engine delivers an output power of 250 bhp at 6300 rpm and 236 lb-ft torque at 2800 rpm. The roadster reaches the speed of 60 mph in 5.8 seconds and the top speed is about 155 mph. The roadster is equipped with both six speed manual and DSG automatic transmission and the driver can choose the transmission according to the road conditions. The gear shifts can be performed easily and smoothly even on higher loads.
The exteriors feature the sharp pointed headlights, taillights and electrically powered spoiler. The interiors features sporty seats, leather steering wheel, navigation system, automatic air conditioning system, audio system and a large luggage space of 210 to 250 liters.
The roadster features 17-inch alloy wheels with brake assist system and it ensures high durability and better braking even at higher speeds.
Specifications
Vehicle Type: 2-door convertible
Configuration: Front Engine/AWD
Engine: V6
Capacity: 3189 cc
Torque: 236 lb-ft at 2800 rpm
Horsepower: 250 bhp at 6300 rpm
Transmission: 6-Speed Manual and DSG Automatic
0-62 mph: 5.8 sec
Top speed: 155 mph
Overlook of the Audi TT Roadster