The Audi TT Clubsport Quattro is an open top high performance sports car with stylish looks.
The body of the Clubsport Quattro is made of aluminum and it features a high grip steering wheel along with aluminum shift paddles.
The Clubsport Quattro features a Turbocharged Incline-4 engine with a capacity of 1984 cc that delivers an output power of 300 bhp. The exhaust system ensures easy breathing with a powerful racing sound. The car features both six speed manual and six speed S-Tronic automatic transmissions. The driver can choose the transmission according to the road conditions and the gears shifts can be performed easily even on higher loads.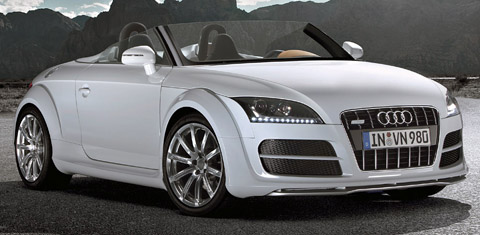 The interiors are mostly in orange color and it features leather seats, instrument panel and a number of graphics. The exteriors feature the aluminum door pull handle, door opener, LED headlights and taillights which gives a high intensity of light even on nights.
The car features the 9×19 inch alloy wheels with ventilated discs that measure 13.39 inches in the front and 12.20 inches on the rear.
Specifications
Vehicle Type: 2-door convertible
Configuration: Front Engine/AWD
Engine: Turbocharged Incline-4
Capacity: 1984 cc
Horsepower: 300 bhp
Transmission: 6-Speed Manual and 6-Speed S-Tronic Automatic