The Audi RS6 is considered one of the highest performance car in luxury versions.
The Audi RS6 is well noted for its sporty look, stylish design, and its powerful engine. The RS6 features a light weight body made of aluminum and this car is available in Sepang Blue, Monterrey Green, and Monza Silver colors.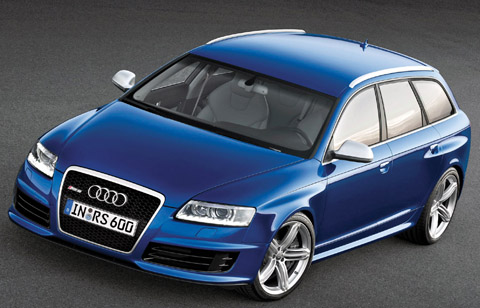 The RS6 features a Twin-Turbo V10 engine with a capacity of 5204 cc. The engine delivers an output power of 580 bhp at 6250 rpm and 479 lb-ft torque at 1500 rpm. The RS6 reaches the speed of 60 mph in 4.5 seconds, 125 mph in 14.9 seconds and the top speed is about 155 mph.
The RS6 is equipped with six speed tiptronic transmission and the gear shifts can be performed easily and smoothly even on higher loads.
The RS6 consists of 20 inch wheels with ceramic brake system. The discs measure 16.5 inches in the front and 14 inches on the rear. These disc brakes ensure high durability and better braking even at higher speeds.
The exteriors feature the bi-xenon sharp pointed headlights and taillights which gives a high intensity of light during nights. The interiors are mostly made of aluminum and carbon fibre and it features the leather seats, three spoke steering wheel, audio system, tire pressure monitoring system and air conditioning system.
Specifications
Vehicle Type: 4-door wagon
Configuration: Front Engine/AWD
Engine: Twin Turbo V10
Capacity: 5204 cc
Torque: 479 lb-ft at 1500 rpm
Horsepower: 580 bhp at 6250 rpm
Transmission: 6-Speed Tiptronic
Weight: 4464 lb
0-62 mph: 4.5 sec
Top speed: 155 mph
Audi RS6 Avant Test Drive