The Audi RS4 is a sports car which delivers high performance on racetracks and on roads.
The body of the car is made of aluminum and it features design bumpers in diamond look, integrated rear spoiler, 18 inch wheels, and twin chamber exhaust system.
The Audi RS4 features a 4.2 liter engine with a capacity of 4163 cc. The engine delivers an output power of 420 bhp at 7800 and 317 lb-ft torque at 5500 rpm. The RS4 reaches the speed of 60 mph in 4.8 seconds and the top speed is about 155 mph. Also there is a "Sport" button, when this button is pressed it produces a high engine sound and ensures high performance.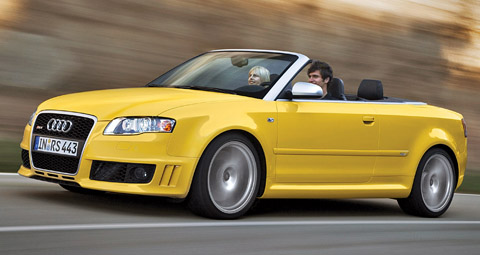 The Audi RS4 is equipped with six speed manual transmission and the gear shifts can be performed easily and smoothly even on higher loads. The RS4 also features Dynamic Ride Control which decreases the cars weight and provides a good balance even on high speeds.
The Audi RS4 features the 18 inch wheels with ventilated discs that measure 14.4 inches in the front and 12.8 inches at the rear. These discs contain eight piston calipers on the front and four piston calipers on the rear and ensure better handling and grip even at higher speeds.
The interiors feature the Silk Nappa leather seats, leather steering wheel, LCD driver information system, navigation system, Bluetooth, Bose sound system, satellite radio, and an iPod interface.
Specifications
Vehicle Type: 2-door sports car
Configuration: Front Engine
Engine: 4.2 liter engine
Capacity: 4163 cc
Torque: 317 lb-ft at 5500 rpm
Horsepower: 420 bhp at 7800 rpm
Transmission: 6-Speed Manual
0-62 mph: 4.8 sec
Top speed: 155 mph
Audi RS4 Cabriolet Review