The Audi R8 is a stunning high performance sports car and it is one of the most advanced technological car.
The R8 is an advanced technological sports car and it is also a five time winner at the Le Mans 24 Hours in the years 2000, 2001, 2002, 2004, and 2005.
The R8 is equipped with a V8 engine with a capacity of 4200 cc. The engine delivers an output power of 420 bhp at 7800 rpm and 317 lb-ft torque at 3500 rpm. It reaches the speed of 60 mph in 4.5 seconds and the top speed is about 187 mph. The R8 is equipped with dry sump lubrication technology which provides a better and higher acceleration.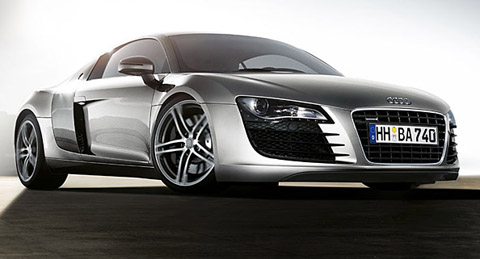 The R8 is equipped with six speed manual and sequential transmissions and it provides smooth and easy gear shifts even at higher loads.
The exteriors feature the aluminum body, stylish LED headlights, and 18 inch wheels. The interiors feature stylish windows, leather seats, Bang & Olufsen sound system with 12 individual speakers and 465 watts output, and a huge luggage space which can accommodate two golf bags.
Specifications
Vehicle Type: 2-door coupe
Configuration: Mid Engine/AWD
Engine: V8
Capacity: 4200 cc
Torque: 317 lb-ft at 3500 rpm
Horsepower: 420 bhp at 7800 rpm
Transmission: 6-Speed Manual and Sequential
0-62 mph: 4.5 sec
Top speed: 187 mph
Audi R8 VS Porsche 911 Carrera