The Audi R8 V12 TDI is a high performance car and also a winner at the Le Mans.
The Audi R8 V12 TDI features a light weight aluminum body which weighs about 210 kilograms. The body of the car is painted in Grace Silver color and it features muscular looks and stands as a fine example of Audi's top sporty models.
The R8 consists of a twin turbo diesel V12 engine with a capacity of 5934 cc. The bore measures 83 mm and the stroke measures 91.4mm. The engine delivers an output power of 500 bhp and 738 lb-ft torque at 1750 rpm. It reaches the speed of 60 mph in 4.2 sec and the top speed is 186 mph. The car features six speed manual transmission and the gear shifts can be performed easily even at higher loads.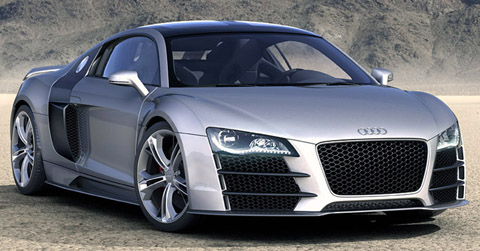 The car features two turbochargers which generate higher pressure and torque of 738 lb-ft, also this helps to deliver an output power of 84.3 hp per liter displacement. A start and stop button is provided for the engine and the car can be operated in two different modes which are Race mode and Dynamic mode.These modes can be chosen according to the road conditions.
The interiors are made of carbon fibre, it features the leather seats, navigation system, climate control, air conditioning and three spoke steering wheel. The exteriors include the LED headlights and taillights which give a high intensity light even on nights.
The brakes are made of ceramic which consist of 24 pistons that ensure high performance and durability even on higher speeds. These brakes reduce the cars weight up to 20 kilograms and have a life up to 186,411 miles.
Specifications
Vehicle Type: 2-door coupe
Configuration: Mid Engine/AWD
Engine: Twin Turbo Diesel V12
Capacity: 5934 cc
Torque: 738 lb-ft at 1750 rpm
Horsepower: 500 bhp
Transmission: 6-Speed Manual
0-62 mph: 4.2 sec
Top speed: 186 mph