The Audi A8 is a high performance luxury car which was well noted for its stylish features and sporty look in a luxury car.
The Audi A8 gives a thrilling driving experience, the air suspensions, bearings, and shock absorbers has been improved and it maintains a good balance even at higher speeds. The riding comfort has been modified and the car moves smoothly even on rough roads.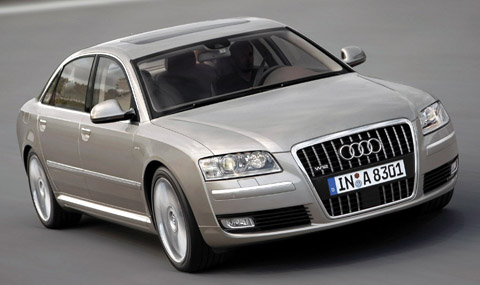 The A8 consists of a W12 engine with a capacity of 5998 cc and it delivers an output power of 450 bhp at 6200 rpm, 428 lb-ft torque at 4000 rpm. The A8 reaches the speed of 60 mph in 5.0 seconds and the top speed is about 155 mph.
The exteriors feature new mirrors with indicators, LED taillights, and specially designed wheels and the interiors are mostly aluminum finished.
Specifications
Vehicle Type: 4-door sedan
Configuration: Front Engine/AWD
Engine: 2.0 TFSI
Capacity: 2000 cc
Mileage: 14/21 mpg
Torque: 428 lb-ft at 4000 rpm
Horsepower: 450 bhp at 6200 rpm
Transmission:6-Speed Tiptronic
Weight: 4751 lb
0-62 mph: 5.0 sec
Top speed: 155 mph
Audi A8 L W12 VS BMW 760Li and Mercedes-Benz S600L