The Audi A5 3.2 FSI is a high performance luxury car manufactured by Audi in the year 2008.
The body of the car is a bit muscular and it offers a lot of space for the driver, passengers, and luggage. The car features only two doors and its design is considered as one of the most stylish car ever.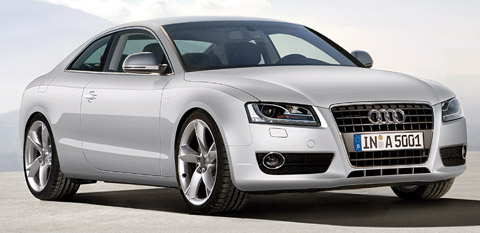 The car features a new 3.2 liter FSI V6 engine with valve gears consisting of valvelift system. The capacity of the engine is 3200 cc and it generates greater power and gives good mileage. The engine delivers an output power of 265 bhp, 244 lb-ft torque at 3000 rpm and it reaches the speed of 60 mph in 6.0 seconds and the top speed is 155 mph. The car features six speed manual transmission and the gear shifts can be performed easily and smooth even at higher loads.
The key of the car is equipped with a sharp memory which stores the cars data. The key communicates electronically with the cars electric system when it is placed inside the cockpit. It also stores the data regarding the vehicles mileage, driver's information and warning messages.
The interiors feature the navigation system, advanced key system, digital TV and radio reception system, Danish hi-fi sound system with 500 watts and 14 individual speakers, CD player, air conditioning system and a large luggage space of 455 liters. The exteriors feature the stylish tail lights, bi-xenon headlights and 17 inch alloy wheels.
Specifications
Vehicle Type: 2-door coupe
Configuration: Front Engine/AWD
Engine: 3.2 liter FSI V6 engine
Capacity: 3200 cc
Torque: 244 lb-ft at 3000 rpm
Horsepower: 265 bhp
Transmission: 6-Speed Manual
0-62 mph: 6.0 sec
Top speed: 155 mph
Audi A5 Review