The Audi A4 is a special edition luxury sports car manufactured by the Audi in the year 2008.
The A4 was first displayed at the Chicago Auto Show in the year 2008. It features a sporty front bumpers, lower side doors and rear trunk top spoiler. It consists of 17 inch wheels with nine spoke design that features brake disc wiping. The A4 is also the first passenger car to feature the brake disc wiping.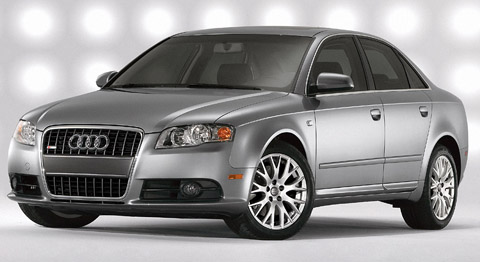 The A4 features a 2.0 TFSI engine and this engine also stood as the third best engine in the year 2008 for its advanced technology and high performance. The capacity of the engine is 2000 cc; it delivers an output power of 200 bhp at 5100 rpm and 207 lb-ft torque at 1800 rpm. The A4 reaches the speed of 60 mph in 7.3 seconds and the top speed is 130 mph.
The exteriors feature the sporty front bumpers, headlights and the stylish 17-inch wheels. The interiors feature the leather trimmed seats, satellite radio, Bluetooth, wood beltline trim, navigation system and ipod adapter.
Specifications
Vehicle Type: – 4-door sedan
Configuration: – Front Engine/AWD
Engine: – 2.0 TFSI
Capacity: – 2000 cc
Torque: – 207 lb-ft at 1800 rpm
Horsepower: – 200 bhp at 5100 rpm
Transmission: – 6-Speed Manual and Tiptronic
Wheelbase: – 104 inches
Width: – 69.7 inches
Length: – 180.6 inches
Height: – 56.2 inches
Weight: – 3549 lb
0-62 mph: – 7.3 sec
Top speed: – 130 mph