The 2007 MTM Audi TT is a stylish and high performance car that holds a record speed of 239 mph at the Papenburg test track.
The MTM Audi TT consists of a Twin-Turbo Incline-4 engine with a capacity of 1984 cc. The engine delivers an output power of 313 bhp and 292 lb-ft torque at 3230 rpm. The maximum speed in the MTM Audi TT is about 239 mph.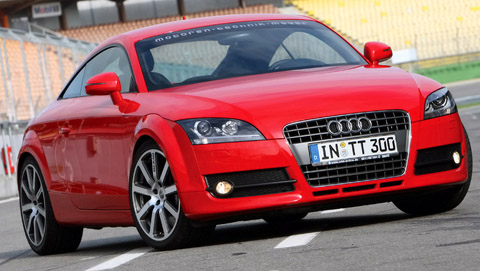 The MTM Audi TT features 6-Speed Manual and DSG Automatic transmissions and the gear shifts can be performed dynamically at higher speeds and loads.
The MTM Audi TT features aerodynamic kit on pipeline, steel exhaust system with two pipe silencer, and four pipe mufflers. The MTM Audi TT consists of 18-inch sporty wheels with Bimoto rims and the size of the tires is 255/35-19. The wheels feature the disc brakes and these brakes ensure safety handling and gripping at higher speeds.
Specifications
Vehicle Type: 2-door Coupe
Configuration: Front Engine/FWD
Engine: Twin-Turbo Incline-4
Capacity: 1984 cc
Torque: 292 lb-ft at 3230 rpm
Horsepower: 313 bhp
RPM: 8000 rpm
Transmission: 6-Speed Manual and DSG Automatic
Top speed: 239 mph
Audi MTM Audi TT Review (German)