The Audi RS4 Avant is a sports car with high performance and attractive looks.
The RS4 has been a trendsetter where 6,000 units have been sold in just half a year. The body of the car is made of aluminum and it features single radiator grille, lower door trims, and alloy wheels.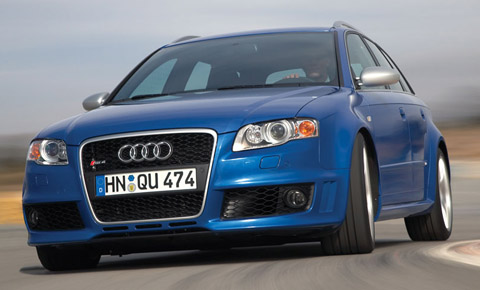 The RS4 features a V8 engine with a capacity of 4163 cc. The engine delivers an output power of 420 bhp at 8250 rpm and 317 lb-ft torque at 5500 rpm. The RS4 reaches the speed of 60 mph in 4.8 seconds and the top speed is about 155 mph.
The RS4 features FSI technology and the petrol injection unit delivers the output power depending upon the air and fuel mixture. The car features six speed manual transmission and the gear shifts can be performed easily and smoothly even at higher loads.
The exteriors feature the aluminum body, bi-xenon headlights, and taillights which gives a high intensity of light during nights. The interiors are mostly designed of carbon fibre and it features air conditioning system, navigation system, sports steering wheel, center locking system, audio system and electric windows.
The RS4 features 18-inch 5-spoke wheels with ventilated disc brakes which measure 365 mm at the front and 324 mm at the rear. These discs ensure optimum cooling and better handling even at higher speeds.
Specifications
Vehicle Type: 4-door wagon
Configuration: Front Engine/AWD
Engine: V8
Capacity: 4163 cc
Torque: 317 lb-ft at 5500 rpm
Horsepower: 420 bhp at 8250 rpm
Transmission: 6-Speed Manual
0-62 mph: 4.8 sec
Top speed: 155 mph
Audi Rs4 Avant VS Porsche Carrera