The Aston Martin V12 Vanquish is the most advanced and technologically built car in Aston Martin cars. It it the James Bond 007's car and it can reach 60 mph in 4.4 seconds and achieve a top speed of 190 mph.
The car was first displayed at the New York International Auto Show in the year 2001. The car was designed by Ian Callum, a British car designer and international award winner. The car was hand built and it is available in 2-seat coupe and 2+2 seat coupe.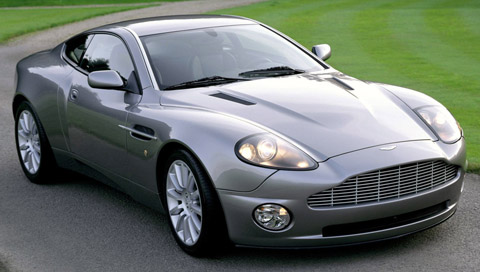 The body structure includes the bulkheads at the front and back, aluminum sections attached with the central transmission which is made of carbon fiber.
The V12 Vanquish consists of a 6.0 liter V12 engine with 48 valves, valve gear, exhaust systems, inlet manifolds and camshafts. The capacity of the engine is about 5935 cc and it delivers an output power of 460 bhp at 6500 rpm and 400 lb-ft torque at 5000 rpm. It consists of 6-speed manual transmission with sophisticated electronics for better operation. During winters, it automatically decreases the engines torque and power.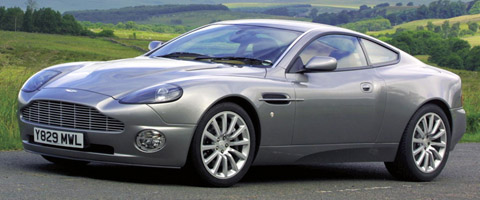 The interiors are mainly designed of metal. The interiors include the climate control system, engine starter button, satellite navigation and sound system. The exteriors are mainly made of aluminum and plastic which includes the bonnet, roof, wings at the front and rear, doors and boot lid.
The V12 Vanquish consists of aluminum alloy wheels which are covered with specially designed Yokohama tires. The temperature and pressure in the tires are controlled by electronic sensing system. The wheels are equipped with Brembo disc brakes which measure 355 mm at the front and 330 mm in the rear.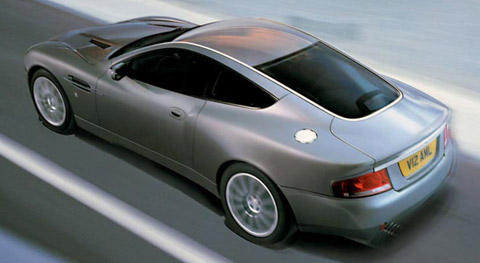 Specifications
Vehicle Type: – Production car, with two doors
Price: – $225,000
Configuration: – Front Engine/RWD
Engine: – 6.0 liter V 12
Capacity: – 5395 cc
Torque: – 400 lb-ft at 5000 rpm
Horsepower: – 460 bhp at 6500 rpm
RPM: – 7000
Transmission: – 6-speed Manual
Wheelbase: – 105.9 inches
Length: – 183.7 inches
Width: – 75.7 inches
Height: – 51.9 inches
Weight: – 4100 lb
0-60 mph: – 4.4 sec
Top speed: -190 mph
Aston Martin V12 Vanquish with music theme from the James Bond movie

Aston Martin Vanquish vs Ferrari 575 Car Review