The Aston Martin Lagonda is a four door luxury car manufactured by the Aston Martin Lagonda Limited in between the years 1976-1991.
The Lagonda was mainly designed to meet the financial needs of the Aston Martin Lagonda Limited in the 1970s. The Aston Martin Lagonda Limited first thought of building a 2+2 sports car, but the project never happened and later the Lagonda was produced.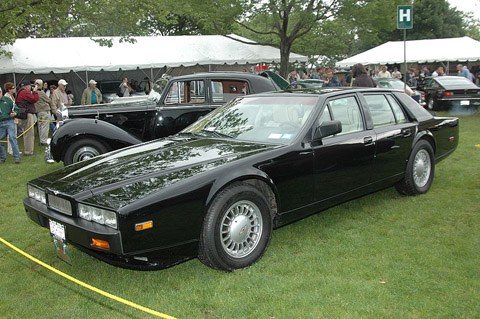 The Lagonda has been designed by William Towns, a British car designer. The car was hand built and the price of the car was £150,000 which makes it equal with Rolls-Royce Silver Spirit and Bentley Mulsanne.
The Lagonda is the world's first car to feature a digital instrument panel and make use of computer management and the Lagonda second series made use of cathode ray tubes.
The Lagonda consists of a 5.3 L V8 carbureted engine with a capacity of 5340 cc and three speed automatic transmission and the top speed is about 143 mph.
Specifications
Vehicle Type: – 2-door sedan
Configuration: – Front Engine
Engine: – 5.3 L V8
Capacity: – 5340 cc
Transmission: -3-Speed Automatic
Wheelbase: – 2350 mm
Width: – 1.82 meters
Length: – 5.3 meters
Weight: – 2097 kg
Top speed: – 143 mph
Aston Martin Lagonda Review