The original Aston Martin DBS was first manufactured by the Aston Martin Lagonda in 1967.
The DBS is the predecessor of Aston Martin DB6. It consists of stylish rear end and front grille and the design features include the steel brightwork and wire wheels. The DBS consists of a powerful 4.0 L DOHC I6 engine that delivers an output power of 283 bhp at 5500 rpm and 390.5 N-m torque at 3850 rpm.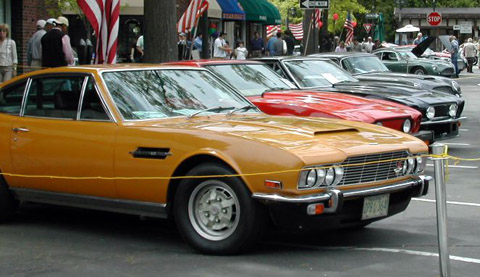 Aston Martin DBS V8 (foreground) and Aston Martin V8 Vantage (red)Photo by:
Nrbelex
,
Creative Commons
The DBS can also be seen in the James Bond movies "On Her Majesty's Secret Service", "Casino Royale" and "Quantum of Solace".
The new DBS V12
The new DBS V12 was launched in the year 2007 and it was specially built for the James bond movie "Casino Royale". This car features 13 loud speakers, helmet pod, removable stopwatch, and carbon diffuser at the rear. It consists of a 6.0 L V12 engine that delivers an output power of 510 bhp, 420 lb-ft torque and the top speed is about 191 mph.
Specifications (1967)

Vehicle Type: – 2-door coupe
Configuration: – Front Engine
Engine: – 4.0 L DOHC I6
Power: – 283 bhp at 5500 rpm
Torque: – 390.5 N-m torque at 3850 rpm
Transmission: – 5-speed manual
Wheelbase: – 2610 mm
Width: – 1830 mm
Length: – 4585 mm
Height: – 1330 mm
Weight: – 3505 lb
Aston Martin DBS Review