The Aston Martin DB6 is a sports car manufactured by the Aston Martin Lagonda Limited in between the years 1965-1970.
The DB6 is the predecessor of DB5 which consisted of a modified aerodynamics compared to the DB5. In the beginning, Aston Martin rejected to build the DB6, but later Aston Martin focused on development of cars which led to the production of DB6. The testing of the DB6 began in the year 1965 on the DB5 chassis. Finally in the 1965 Motor Show, the DB6 was displayed for the first time.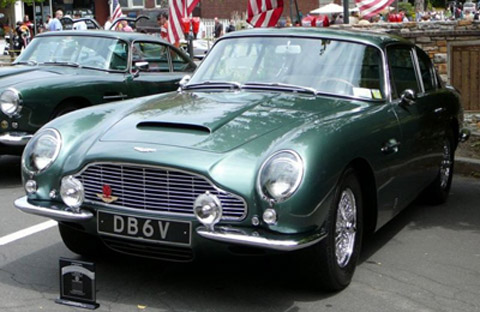 Photo by:
Brett Weinstein
,
Creative Commons
The changes in the DB6 compared to the DB5 are extra space for rear passengers, chrome wire wheels, air conditioning, power steering, ZF five speed manual and three speed automatic gearbox, roofline, windscreen and 7.7 kg heavier than DB5. Also the shooting brakes were introduced later.
The DB6 consists of a 3995 cc L Tadek Marek I6 engine with triple SU carburetors that delivers an output power of 282 bhp at 5500 rpm and 325 bhp in the Vantage engine which was available optionally.
DB6 1966
This version was launched in the year 1966, the technical specifications of this car are
Vehicle Type: – sports car
Configuration: – Front Engine
Engine: – 4.0 straight-6
Transmission: – 5-speed manual and 3-speed automatic
Horsepower: – 282 hp at 5500 rpm and 325 hp at 5750 rpm in Vantage engine
Torque: – 400 N-m at 4500 rpm
Wheelbase: – 2578 mm
Width: – 1676 mm
Length: – 4623 mm
Height: – 1359 mm
Weight: – 2128 lb
0-60 mph: – 8.4 sec
Top speed: – 150 mph
Shooting Brake
This Shooting Brake version was launched in the year 1966. The Shooting Brakes were introduced for the first time in this car. The technical specifications of this car are
Vehicle Type: – sports car
Configuration: – Front Engine
Engine: – 4.0 straight-6
Transmission: – 5-speed manual and 3-speed automatic
Horsepower: – 282 hp at 5500 rpm and 325 hp at 5750 rpm in Vantage engine
Torque: – 400 N-m at 4500 rpm
Wheelbase: – 2489 mm
Width: – 1676 mm
Length: – 4572 mm