The Aston Martin DB2 is a sports car manufactured by the Aston Martin Lagonda Limited in between the years 1950-1953.
The DB2 is also one of three cars that took part in the 24 Hours of Le Mans. The entire car was built based on its predecessor DB1. The demand for this car is very high in those days where the second, third and fourth series of the DB2 took part in the Le Mans in the year 1950. Also these models stood in the first and second places that took part in the race up to the year 1951.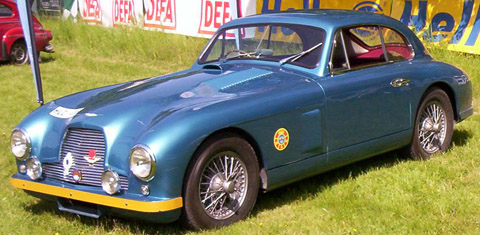 Photo by:
Lars-Göran Lindgren
,
Creative Commons
The car features a 2.6 liter Lagonda I6 engine that delivers an output power of 125 bhp. It reaches the speed of 60 mph in 11.2 seconds and the top speed is about 116.4 mph. The price of the car in those days was £1914.
The car consists of a spare wheel and luggage space at the back of the front seats which makes a way to the inside of the car. A total of 411 DB2 have been manufactured in between the years 1950-1953.
Specifications
Vehicle Type: – Sports car
Configuration: – Front Engine
Engine: – 2.6 liter Lagonda I6
Horsepower: – 125 bhp
Wheelbase: – 105.9 inches
Length: – 99 inches
Width: – 65 inches
Height: – 53.5 inches
0-60 mph: – 11.2 sec
Top speed: -116.4 mph
Price: – 1914 Euros
Aston Martin DB2 1952 on the Road