The 2013 Aston Martin Vanquish is a stunning, luxury, sports car, which uses the architecture and craftsmanship inherent in Aston Martin design and engineering, to produce a sports car which is more efficient and affordable for every day use.
While no details have been missed, new materials were used to make the car lighter, easier to handle, more efficient, and roomier. Performance has increased with the impressive technology used, and the overall look is reminiscent of past models, but much more economical to drive.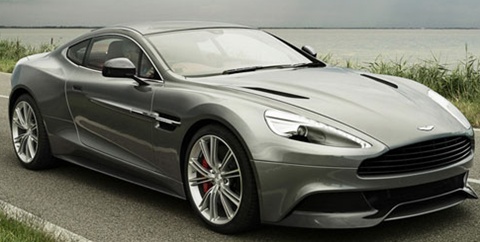 Specifications
General Info

| | |
| --- | --- |
| Vehicle Type: Super Sport Coupe | Est. Market Price: $296,772.00 |
| Fuel Tank Capacity: 20.5 gals (78L) | MPG: NA |
Dimensions

| | |
| --- | --- |
| Length: 185.8 in. (472 cm) | Wheelbase: 107.8 in. (274 cm) |
| Height: 50.9 in. (129.4 cm) | Width: 81.3 in. (206.7 cm) |
| Curb Weight: 3833 lbs (1739 kg) | Ground Clearance: NA |
| Luggage Capacity: NA | Maximum Seating: 2 |
Performance

| | |
| --- | --- |
| Engine: 48 Valve V12 | Displacement: 6.0 liters cc |
| Horsepower: 565 HP | Max RPM: 6750 rpm |
| Torque: 457 lb-ft | Transmission: 6-Speed Automatic |
| 0-60 mph: 4.1 seconds | Top Speed: 183 mph (295 km/h) |
Design
The Vanquish is a leaner, more elegant car, with improved dynamics and agility. Its aluminum, magnesium alloy, and carbon fiber composite body, with body panels constructed from carbon fiber, increases torsion rigidity more than 25%.
Each carbon fiber panel is sculpted to direct airflow around the car, into the engine, also helping to cool the braking system. The carbon fiber elements used in the Vanquish are advanced techniques used in the motorsport and aerospace industries. Manipulating downforce of air, and making the car lighter, makes handling and grip of the car more responsive and predictable.
Performance
The front chassis is 13% lighter, by using hollow cast aluminum, and is redesigned to lower the engine, which also improves handling and agility. Because of the front-mid mounted engine, and mounting position of the transaxle, a near perfect distribution of weight is achieved.
The 6.0-liter, V12 engine has a revised block, and new head with variable valve timing. The fuel pump has been upgraded, with enlarged throttle bodies, and a revised intake manifold. It has fully machined combustion chambers, which helps the engine to provide an increased peak power of 565 hp at 6,750 rpm.
A Launch Control system, derived from motorsports, delivers an optimum take-off, which balances the throttle, gearbox, and traction aids. Dynamic Stability Control, and Positive Torque Control aids, helps in providing more control, for a refined driving experience.
The Adaptive Damping System (ADS) now gives the driver three damping options, delivering immediate adjustment of the car's handling abilities in normal mode, sport mode, or track mode. The Vanquish is capable of achieving 0-62 mph in just 4.1 seconds, with a top speed of 183 mph.

Interior
The interior space in the Vanquish has increased 1.5 inches for legroom, and 3.5 inches for elbow room, making it feel much roomier. The luxurious leather interior and hand-quilted seat bolsters, display the expert craftsmanship which is a signature of Aston Martin cars.
The Vanquish comes complete with a center stack, capacitive touch interface with haptic feedback, and Bang and Olufsen audio system, along with many other optional features offered in Aston Martin sports cars. The increased space is the newest renovation, with more cabin space, and an impressive 13 cubic feet for luggage in the trunk.
Exterior
Every effort has been made to make the 2012 Aston Martin Vanquish a sporty, luxury car, yet engineered in a way to make it more economical, with less emissions, roomier, and easier to handle.
Their efforts have paid off, and the 2013 Vanquish will begin to be delivered to customers in the United States, in early 2013. It is a beautiful looking sports car which has become more efficient, easier to handle, and more affordable to own.