The Aston Martin DBS Volante is a high performance sports car manufactured by the Aston Martin Lagonda Limited.
The DBS Volante displays the skill of the craftsmen and it is a combination of performance and power. It is a two door convertible car and it features a retractable fabric roof which can be opened or closed with a single touch of a button. The roof can be opened or closed in just 14 seconds and the roof will be automatically closed when the car attains the speed of 30 mph.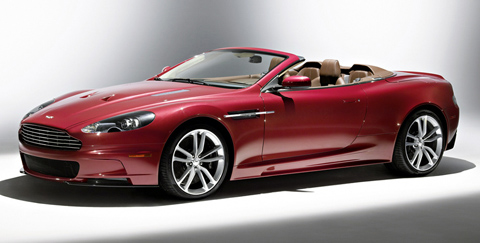 The Volante consists of a 6.0 liter V12 engine with a capacity of 5935 cc. The engine delivers an output power of 510 bhp at 6500 rpm and 420 lb-ft torque at 5750 rpm. It features a six speed manual gearbox and the optional six speed automatic Touchtronic transmission. The Volante reaches the speed of 62 mph in 4.3 seconds and the top speed is about 191 mph. In addition the car can be operated in four different modes depending on the road conditions which are
• Reverse
• Drive
• Neutral
• Park
The interiors are made of lightweight fibre materials in order to decrease the cars weight. The interiors feature  leather trimmed seats and Bang and Olufsen's Beosound audio system with 13 individual speakers specially designed for the Volante.
The car features the 10 spoke aluminum wheels with carbon ceramic brakes and the wheels are wrapped with Pirelli P-Zero tyres specially designed for the Volante.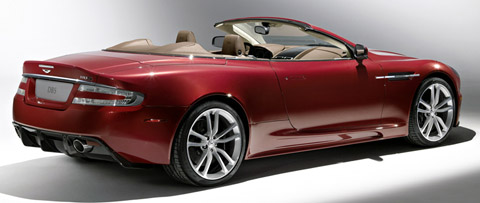 Specifications
Vehicle Type: – 2-door convertible
Type: – sports car
Configuration: – Front Engine/RWD
Engine: – 6.0 liter V12
Capacity: – 5935 cc
Torque: – 420 lb-ft at 5750 rpm
Horsepower: – 510 bhp at 6500 rpm
Transmission: – 6-Speed Manual and 6-Speed Automatic Touchtronic
Wheelbase: – 107.9 inches
Width: – 75.5 inches
Length: – 185.9 inches
Height: – 50.4 inches
Weight: – 3980 lb
0-62 mph: – 4.3 sec
Top speed: -191 mph
2010 Aston Martin DBS Volante Review