The Aston Martin DBS is a two seater and high performance sports car launched in the year 2008.
The DBS is a mixture of stylish design, modern manufacturing methods and an experienced hand work. It is a muscular and lightweight car where the body panels are made of lightweight carbon fibre. As a result of light weight the car attains good balance between the cars mass and strength.
The DBS consists of a 6.0 liter V12 engine with six speed manual transmission. The capacity of the engine is about 5935 cc and it delivers an output power of 510 bhp at 6500 rpm and 420 lb-ft torque at 5750 rpm. The DBS reaches the speed of 62 mph in 4.3 seconds and the top speed is about 191 mph. The price of the car is $262,000.
The car features Dynamic Stability Control (DSC) system for better control during the extreme driving conditions. The DSC can be switched on by holding the switch for two seconds and it can be switched off by holding the switch for four seconds.
The car features 20 spoke alloy wheels with Carbon Ceramic Matrix brakes which stops the car with exceptional resistance even at high speed. The wheels are wrapped with Pirelli P-Zero tyres which are specially designed for this car.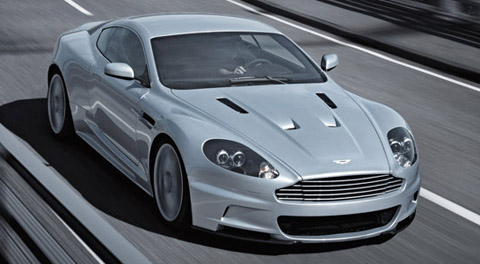 Specifications
Vehicle Type: – 2-door coupe
Type: – sports car
Configuration: – Front Engine/RWD
Engine: – 6.0 liter V12
Capacity: – 5935 cc
Mileage: – 11/17 mpg
Torque: – 420 lb-ft at 5750 rpm
Horsepower: – 510 bhp at 6500 rpm
RPM: – 6800
Transmission: – 6-Speed Manual
Wheelbase: – 107.9 inches
Width: – 75.0 inches
Length: – 185.9 inches
Height: – 50.4 inches
Weight: – 3480 lb
0-62 mph: – 4.3 sec
Top speed: -191 mph
Aston Martin DBS Review