The Alfa Romeo Montreal is a sports car manufactured by Alfa Romeo Automobiles in between the years 1970-1977.
The Alfa Romeo Montreal was first displayed at the "International and Universal Exposition" at Montreal, Canada in the year 1967. Later, the first production car was displayed at the "Geneva Motor Show" in the year 1970. It consisted of a 2.6 L V8 engine with a capacity of 2593 cc and a 5-speed manual gearbox. The engine is equipped with SPICA fuel injection system that delivered an output power of 200 bhp at 6500 rpm and 235 N-m torque at 4750 rpm.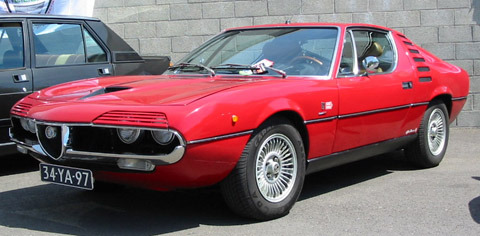 Photo by:
Marvin Raaijmakers
,
Creative Commons
The bodywork of the Alfa Romeo has been taken from Giulia GTV which featured dampers and coil springs in the front, live axle at the rear. The highlight in the car is its four headlamps at the front which is covered by unique grills. The stylish NACA duct is another highlight in the car which can be blocked off.

Photo by:
Brian Snelson
,
Creative Commons
Specifications
Vehicle Type: – sports car
Configuration: – Front Engine
Engine: – 2.6 L V8
Displacement: – 2593 cc
Transmission: – 5-Speed manual
Horse power: – 200 bhp at 6500 rpm
Torque: – 235 N-m at 4750 rpm
Wheelbase: – 92.5 inches
Width: – 65.8 inches
Length: – 166.1 inches
Height: – 47.4 inches
Weight: – 2800 lb
0-62 mph: – 7.4 seconds
Top speed: – 137 mph
Alfa Romeo Montreal Test Drive