At the recent Paris show, Alfa Romeo unwrapped the production version of the 8C coupe. It goes on sale some time next year for $200,000, and as few as 500 units may be built. The three spoke steering wheel with the squared off bottom adjusts in both reach and rake, the power operated seats move back a long way, the foot well is deep, and there is sufficient clearance between the slab sided door panel and the transmission tunnel. But once the manual roof is closed, the swayback silhouette makes taller people to duck and crouch in discomfort. The show car is fitted with a good mix of black leather and brushed aluminum.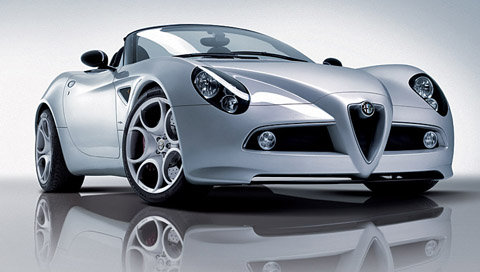 The aluminum pedals are well spaced, but the clutch is a bit too heavy. The 8C Spider features the traditional six-speed manual transmission from the Maserati GranSport Coupe.
The 2008 Alfa Romeo 8C Spider can accelerate from 0 to 60 mph in less than four seconds. The maximum speed is 185 mph. The entire body and interior is fabricated with carbon fiber for a total of 3300 pounds. Compared with its closely related donor car, the Maserati GranSport Spyder, the Alfa Romeo 8C is 176 pounds lighter, 2.4 inches wider, 1.2 inches lower, and 1.6 inches longer. The wheelbase grew by 4.3 inches, and it now exactly matches the foot print of the Maserati GranSport Coupe.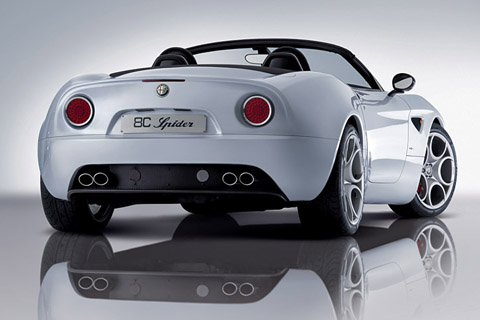 The V-8 Engine is a 4.7 liter version of the Maserati 4.2 liter unit and is rated at 450 hp. With maximum torque of 347 lb-ft available at 4750 rpm, the Alfa engine whips up more twist action than the F430, and it also out distances both Maseratis.