The Alfa Romeo 33 Stradale is a sports car manufactured by Alfa Romeo Automobiles in between the years 1967-1971.
The car was first displayed at the Turin Motorshow in the year 1967. It was designed by Franco Scaglione, an automobile coachwork designer. During its period, the Alfa Romeo 33 Stradale was considered as the most expensive car in the year 1968 that priced at $17,000 USD and the average car was priced at $2,822 USD. It is also the first car to feature the butterfly doors.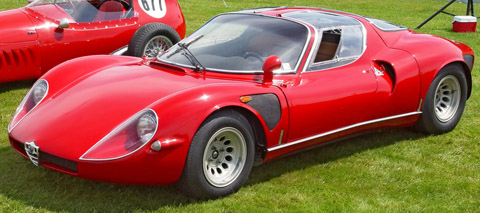 Photo by:
Writegeist
,
Creative Commons
The Alfa Romeo 33 Stradale consists of a 2.0 L V8 engine with SPICA fuel injection, 16 spark plugs and 6-speed manual transmission. The capacity of the engine is about 1955 cc that delivered an output power of 230 bhp at 8800 rpm in normal road conditions an it delivered an output power of 270 bhp on race tracks. The car attains the speed of 60 mph in 5.5 seconds and the top speed is about 160 mph.
Specifications
Vehicle Type: – 2-door coupe
Configuration: – Mid Engine
Engine: – 2.0 L V8
Transmission: – 6-Speed manual
Wheelbase: – 2350 mm
Width: – 1710 mm
Length: – 3970 mm
Height: – 991 mm
Weight: – 1543 lb
0-60 mph: – 5.5 seconds
Top speed: – 160 mph
Alfa Romeo 33 Stradale in Italian