The 2014 Alfa Romeo 4C has been described by many as being an amazing car. It was built in the Maserati plant in Modena, Italy.
It is a mesmerizing coupe with two bucket seats, just like in racing cars.
It uses similar technology of recent models by Alfa Romeo; it continues to be one of the most stunning sports cars in its range.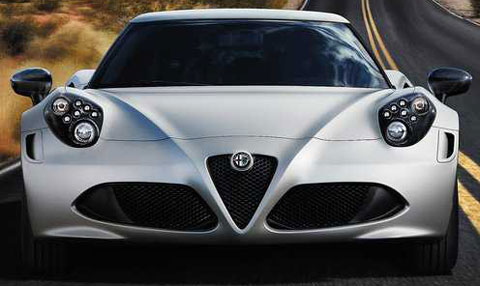 Specifications
General Info

| | |
| --- | --- |
| Vehicle Type: Coupe | Base Price: NA |
| Fuel Tank Capacity: 10.5 gals (40L) | MPG: 24 city / 47 hwy |
Dimensions

| | |
| --- | --- |
| Length: 157 in. (398.9 cm) | Wheel Base: 93.7 in. (238 cm) |
| Height: 46.5 in. (118.3 cm) | Width: 82.2 in. (209 cm) |
| Curb Weight: 1973 lbs (895 kg) | Maximum Seating: 2 people |
Performance

| | |
| --- | --- |
| Engine: Turbo Inline-4 Cylinder | Displacement: 1750 cc |
| Horsepower: 240 HP | Max RPM: 6000 |
| Torque: 259 lb-ft @ 1700 rpm | Transmission: Alfa TCT- Automatic |
| 0-60 mph: 4.5 seconds | Maximum Speed: 160 mph (258 km/h) |
Engine & Performance
The most amazing feature about this car is its turbo charged engine. Precision engineering and design have enabled the engineers to build a new generation turbo charger. The 4C comes with an inline 4 engine that produces 240 horsepower and 259 lbs ft of torque.
In addition, it includes a pulse convertor exhaust that works by using pressure waves to enhance the torque at lower engine speeds.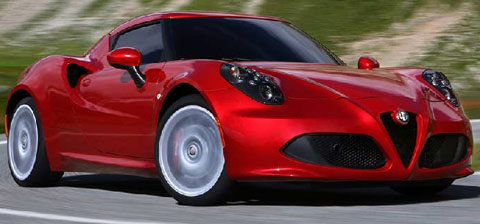 The air turbine is constructed using micro-cast steel and can easily function properly at temperatures well over 1000 degrees.
A turbo charger isn't complete without the right gear box. All that power is useless if the gearbox isn't engineered perfectly to complement the engine. The 4C comes with an Alfa TCT gearbox with a dual dry clutch.
What's great is that it comes with improved controlling software that ensures you make quick gear shifts in all conditions. Once you let go of the brakes, the on board system automatically controls the traction and the gearbox, and increases power accordingly.
Exterior
The Alfa Romeo 4C is compact, with a length of approximately 4 meters, and a wheel base of around 2.4 meters. It does have the specifications of a compact car, but even with these features, its dynamics are properly confirmed by a weight to power ratio of 4 kg/HP.
The 2014 4C is made up of 25% carbon fiber, which guarantees maximum efficiency and durability. This material is able to handle the stress even when the car is driven at high speeds, and nevertheless the chassis is 154 lbs lighter(70 kg).
Aluminum is used to reinforce the roof and the front and rear beams. This helps increase the rigidity while reducing the overall weight.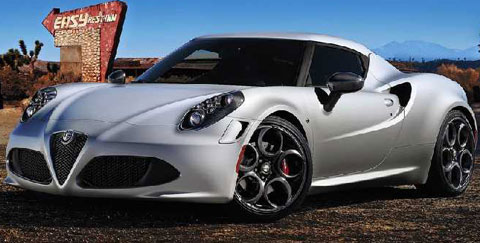 Interior
The two words that can best describe the interior of this car are comfort and usability. Besides being exquisitely designed to incorporate different luxurious features, there has also been a lot of importance placed on practicality.
The cockpit is very nicely designed, and the metallic details make this car's environment relaxing and sporty. This undeniably complements its beautiful exterior.