Inspired by the 1952 C52 Disco Volante, Alfa Romeo presents a very worthy successor, a production version, the 2013 Disco Volante Touring car.
The vehicle's retro design has a contemporary feel combined with old stylings and an innovative approach.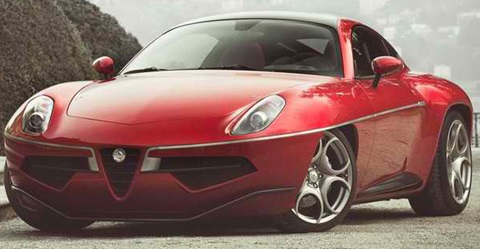 Specifications
General Info

| | |
| --- | --- |
| Vehicle Type: 2 Seat Coupe | Est. Market Price: NA |
Performance

| | |
| --- | --- |
| Engine: V8 DOHC Turbo | Displacement: 4.7 Liter |
| Horsepower: 450 HP | Torque: 347 lb-ft |
| 0-60 mph: 4.2 seconds (est.) | Top Speed: 181 mph (291 km/h) est. |
Engine
The 2013 Alfa Romeo Disco Volante has an exceptional power package featuring a front and centrally located 4.7 liter V8 engine. It generates 450 horsepower and accelerates from 0 to 62 miles per hour in just 4.2 seconds. It tops out at 182 MPH. The engine is matched up with a 6 speed electronically controlled gearbox. The Disco Volante has a light, yet rigid structure based on the Alfa Romeo 8C Competizione chassis.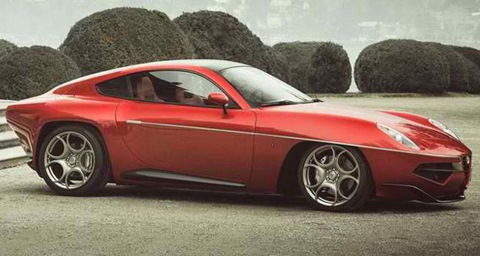 Exterior
The overall proportion of the Alfa Romeo Disco Volante touring vehicle are nearly identical to its 1952 counterpart. It is a Gran Turismo that seats two. Engineering concerns were addressed such as the case of the elevated bonnet to accommodate engine ventilation. The body work itself is made of aluminum and carbon fibers.
A wrap around chrome strip runs from the door handles on each side and meets equal distance on the vehicles front end. This forms the perfect separation of top from bottom. Streamlined running boards complement the sides. As it roars past you on an alpine pass you will be enthralled by its roofline merging with the wide and sporty rear. It is both sleek and succinct just as any fine Italian coach builder would demand.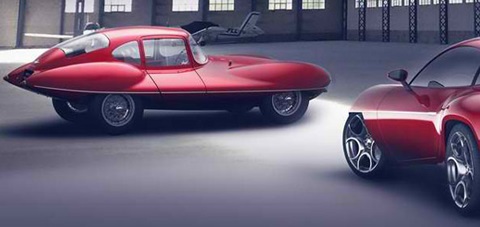 Interior
You may want to take your 2013 Disco Volante out for an evening ride if only to experience the red LED interior lights that glow in a futuristic manner. The leather hide seats were manufactured to match the cars exterior color. The cockpit is just that, inspired by the aeronautics. As always, customization is encouraged as part of the Touring personal commissioning attitude.
This exquisite car demands 4,000 man hours of labor and will take up to 6 months to assemble. It is well worth the wait!