What's there not to love about a supercar that is good-looking, fast, and loaded with features? The 2010 Pininfarina Alfa Romeo 2uettottanta Spider is the epitome of elegance combined with superior engine performance. It practically marks the rebirth of a legendary name.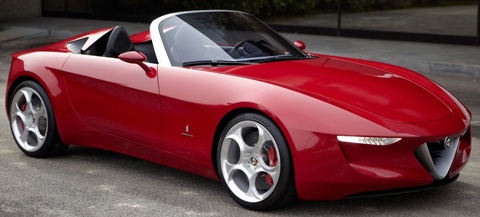 Drawing inspiration from the striking red open Alfa Romeo (a prestigious marquee), the Alfa Romeo 2uettottanta Spider is reminiscent of the Duetto, which was first produced in 1966. The two-seater concept car measures a 13.8 feet by 5.9 feet and has a wheelbase of 8.2 feet. The simple but solid front end (with headlights adopting modern LED lighting technology) and Alfa Romeo emblem are sure to get many stares.
Powered by a 1.75 liter turbocharged inline-4 engine, the 2010 Pininfarina Spider can catapult riders to jaw-dropping speeds. As may be expected from the styling house of Pininfarina (and as tribute to Alfa Romeo, which is celebrating its centennial), the interiors represent the ultimate in luxury, ensuring comfort and making the driving experience utterly amazing.