There is no shortage of luxury cars in the world, but for those who prefer a car that is a step above ordinary luxury, the Lykan Hypersport, manufactured by W Motors, is an excellent choice.
Since its debut at the 2013 Qatar Motor Show, Arabian car manufacturer "W Motors" has proudly showcased the Lykan as the future of beauty and luxury, with unsurpassed power, torque, and fuel-efficiency.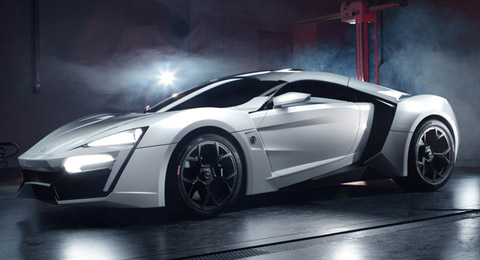 Specifications
General Info

| | |
| --- | --- |
| Vehicle Type: Super Sport Coupe | Est. Market Price: $3.4 Million |
Performance

| | |
| --- | --- |
| Engine: Flat5 Twin Turbo | Horsepower: 750 HP |
| 0-60 mph: 2.8 seconds | Top Speed: 245 mph (395 km/h)* |
*Projected speed
Performance
Some may find the rear-wheel-drive a little surprising, until they remember this car is manufactured in Arabia, where traction is not commonly an issue. When you factor in a flat-6 Porsche twin-turbocharged 750-horsepower engine, which can zoom from 0 to 62 mph in an eye-popping 2.8 seconds, the power of this hyper-car leaves the competition behind.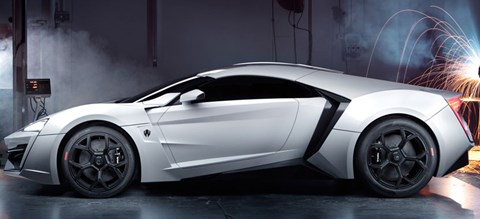 Unique Luxury
W Motors' founder, Ralph R. Debbas, began his company with a mission. He wanted to build a history-making car that would be renowned as much for its uniqueness as much as for its performance and appearance.
For this reason, there will only be seven of this vehicle manufactured. Each hyper-car will have its unique number in the sequence notated on the interior roof of the car, along with its date of delivery.
The car earns its price, not only because of its performance, but also for the details put into its design, such as white gold bordering the brilliant LED headlights. To add to the dazzle, these white gold borders are embedded with diamonds.
Expensive Interior
The supple leather interior is stitched with gold, and you may integrate additional precious jewels, such as rubies, sapphires, or emeralds throughout the car.
Interesting Features
The Lykan Hypersport have attributes that are worth mentioning.
The car is styled in the fashion of the number "7" which bears special meaning to the Arabic world, since 7 is considered to be a lucky number.
The car's name was derived from the most voracious species of wolf, although with a slight deviation in spelling.
Those who purchase a Hypersport will receive a complimentary Cyrus Klepcy watch, which was built exclusively to go with this car, the watch carries a retail value of approximately $200,000.