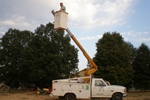 Did you ever ask yourself what kind of truck these linemen use for reaching those sky-scraping heights? Well, you don't have to because you will know it eventually when you finish reading this article.
Bucket truck is the type of truck used for grasping towering areas. It is by far called the linemen and rescue workers' partner to support their work. In every case, these trucks can be very handy especially on emergencies. The ladder is what makes this truck unusual among other big cars. It is also built with a single or double-arm boom for additional security. The engines are either made up of an actual truck engine or an auxiliary engine which can be normally seen at the back of the car. Furthermore, drivers need less training in handling this car as it is easier to operate. The storage bins can also be found inside it where you can place your tools.
You can see a lot of brands on the internet when you want to purchase a bucket truck. However, be sure on what to look for in this vehicle and don't rely on its outside appearance alone. Engine size and fuel consumption should be checked first before making a transaction.
Bucket Truck Rescue