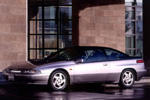 At its debut in 1989 at the Tokyo Auto Show, Subaru SVX was a concept car. Giorgetto Giugiaro, an Italian automotive designer, made the design of this car. From the sleek bodywork and the incorporation of various design, the ItalDesign designer made this for Fuji heavy Industries, Subaru's parent company.
Subaru then decided to release the concept car and have it made with the Giurgiaro's design while maintaining their signature design, the windows. This design of the widow is what Subaru calls an aircraft-inspired glass-to-glass canopy. The design is basically a window within a window.
Subaru SVX was released in the United States in 1991 and in Japan by September of the same year. SVX was named Alcyone SVX inside Japan but the Alcyone was dropped when it was marketed outside Japan. This car was the replacement for the Alcyone XT and Alcyone XT6. This car was also Fuji Heavy Industries' first attempt to make a car with comfort and performance as its main feature.
Estimated Price Range for Used Subaru SVX: $3,000-$7,000
Estimated MPG for Subaru SVX: 15 City/22 Hwy
Available Trims: Base, LS, SVX
Below are Pre-Owned Subaru SVX from Ebay and 4 of the top used-car sites on the web:
No items matching the keyword phrase "Subaru SVX" were found. This could be due to the keyword phrase used, or could mean your server is unable to communicate with Ebays RSS2 Server.

Subaru SVX Review