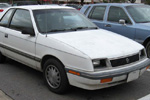 Based on a mid-size car, Plymouth Sundance arrived in 1987 together with its twin the Dodge Shadow. Both were built on the same subcompact platform. It first featured a four door hatchback but was immediately followed by a two door hatchback. It had a 5-speed manual transmission and an optional 3-speed automatic for all three engines.
Actually, its wheelbase and length was only .1 shorter than the original K-cars. Hence, it was an enormous size compared to other sub-compact cars. Plymouth Sundance was not a sporty-type, but rather it catered to consumers that were particular on comfort and space accommodation.
Other standard features included a precision handling system, power-assisted brakes with dual braking system split diagonally, dual outside remote control mirrors, color-keyed front and rear bumpers, two rectangular halogen headlights, stainless steel exhaust system and a 14-inch sport wheel covers. In 1990 it acquired computer-controlled panel that resulted in replacement of the cable-driven speedometer.
Estimated Price Range for Used Plymouth Sundance: $2,000-$5,000
Estimated MPG for Plymouth Sundance: 21 City/26 Hwy
Below are Pre-Owned Plymouth Sundance from Ebay and 4 of the top used-car sites on the web:
No items matching the keyword phrase "Plymouth Sundance" were found. This could be due to the keyword phrase used, or could mean your server is unable to communicate with Ebays RSS2 Server.

Plymouth Sundance Drag Racing