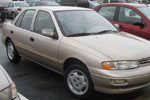 A four-door compact family car released by Kia Motors Company in 1994 up until 2004 (until 2001 in North America). This car has been called several names like Kia Sephia, Kia Spectra and Kia Mentor.The first generation of the Sephia was based on a Mazda car called the Familia. The first upgrade it received was the change in the grilles and the engines was switched (except in the Canadian market) to 1.8 L DOHC four-cylinder BP engine. However, a diesel engine was not an available alternative for this.
By 2000 in North America, the name Spectra was now used to refer to the hatchback version of the Sephia and by 2001, the sedan was now called Spectra sedan instead of Sephia.
Estimated Price Range for Used Kia Sephia: $1,200-$8,500
Estimated MPG for Kia Sephia: 22 City/28 Hwy
Available Trims: Base, LS
Below are Pre-Owned Kia Sephia from Ebay and 4 of the top used-car sites on the web:
No items matching the keyword phrase "Kia Sephia" were found. This could be due to the keyword phrase used, or could mean your server is unable to communicate with Ebays RSS2 Server.

Specifications for the First Generation are as follows:
• Engine – 1.5 L I4 (79 hp)
1.6 L I4 (105 hp)
1.8 L I4 (122 hp)
• Wheelbase – 98.4 inches
• Length – 171.7 inches
• Width – 66.7 inches
• Height – 54.7 inches
Second generation Kia Sephia, released in 1998, has been given a few more changes. The engine now used Kia's very own 1.8 L DOHC engine. They have also improved its air-conditioning system.
Specifications for the Second Generation are as follows:
• Engine – 1.8 L I4 (25 hp)
• Wheelbase – 100.8 inches
• Length – 174.4 inches
• Width – 66.9 inches
• Height – 55.5 inches
Kia Sephia Commercial