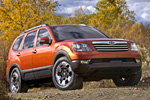 This Kia SUV was introduced into the market in 2008 at the North American International Auto Show as a production model for the previously released concept car Kia Mesa (which was launched at the 2005 North American International Auto Show). The Borrego is also named Mohave.
The Borrego name was used in the North America. The name was gotten from the Anza-Borrego Desert State Park in California and the name Borrego itself means "big-horned sheep" that can be found dominantly in that area.
Estimated Price Range for Used Kia Borrego: $10,000-$18,000
Estimated MPG for Kia Borrego: 17 City/21 Hwy
Available Trims: Base, LX
Below are Pre-Owned Kia Borrego from Ebay and 6 of the top used-car sites on the web:
No items matching the keyword phrase "Kia Borrego" were found. This could be due to the keyword phrase used, or could mean your server is unable to communicate with Ebays RSS2 Server.

The Borrego has the following specifications in its units:
• Engine – 3.8 L Lambda II V6 or 4.6 L Tau V8
• Transmission – 5-speed or 6-speed automatic transmission
• Power – 276 hp or 337 hp
• Length - 192.1 inches
• Width - 75.4 inches
• Height – 71.3 inches
• Wheelbase – 114.0 inches
• Seating – standard three rows
• Suspension – adjustable air-suspension
• Navigation system – available as an option
Kia Borrego Review