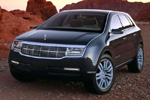 Isuzu VehiCROSS
Photo by:
Johnnyapollo
,
Creative Commons
With 3.5L, six-cylinder engine, 215 hp, 230 ft-lbs of torque at 3,300 rpm, this four-wheel drive can kick some mean dust in the air. Note that the Isuzu VehiCROSS was a halo or concept car so Isuzu's marketing strategies worked when people started using the Isuzu VehiCROSS as the new term for speed.
Estimated Price Range for Used Isuzu VehiCROSS: $5,500-$12,000
Estimated MPG for Isuzu VehiCROSS: 13 City/17 Hwy
Below are Pre-Owned Isuzu VehiCROSS from Ebay and 3 of the top used-car sites on the web:
The Isuzu VehiCROSS isn't just the typical oh-it-looks-awesome kind of car. Rather, it can boast of the following jaw-dropper, temperature-riser features:
a) Space-challenged is so last season
- Head is 38.2 inches
- Front Leg is 43.1 inches
- Front Hip is 52.4 inches
- Front Shoulder is 52 inches
- Rear Leg is 29.5 inches
- Read Head is 35.4 inches
- Rear Hip is 40 inches
- Rear Shoulder is 51.6 inches
b) Haul all you can
- Luggage capacity is 13.9 cu. ft. plus four adults at the same time
- Total volume weight is 50 cu. ft.
Isuzu VehiCROSS Review