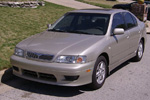 The Infiniti G20 was the first in the G series of cars from Nissan Motors' luxury car division. The G20 is an entry-level luxury car in the US during most of the 1990s and into the 2000s. Offering higher levels of standard equipment, the G20 came in two generations in the U.S: the HP10 (P10), manufactured from 1991 to 1996, and the HP11 (P11), built from 1999 to 2002. All G20s were front-wheel drive and were made in Oppama, Japan.
The P10 showcased the first application of Nissan's multi-link front suspension in a front-wheel-drive car. Equipped with an independent MacPherson strut setup in the rear, the car has a five-speed manual transmission as standard. The options to choose from were an automatic transmission, leather interior, and a power glass moon roof. The G20 was powered by a transversely mounted DOHC NA reciprocating internal combustion engine, a 2.0L (1998 cc) square (Bore × Stroke: 86.0 × 86.0 mm) inline four-cylinder motor which was called the SR20DE.
Estimated Price Range for Used Infiniti G20: $1,000-$4,000
Estimated MPG for Infiniti G20: 19 City/26 Hwy
Below are Pre-Owned Infiniti G20 from Ebay and 5 of the top used-car sites on the web:
No items matching the keyword phrase "Infiniti G20" were found. This could be due to the keyword phrase used, or could mean your server is unable to communicate with Ebays RSS2 Server.

Infiniti G20 Review