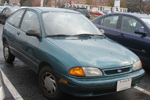 Ford Aspire was a car sold in the US and Canada by Ford Motors Company from 1994-1997. It is the Ford Festiva's subcompact car second-generation. Ford Aspire was designed as a hatchback with either three or five doors. Aspire vehicles were produced in South Korea by Kia Motors while the engines and components were done in Japan by Mazda. It was known in Japan and Australasia as the Ford Festiva. In North America, Ford Aspire was known to be the first one in its class to be produced with dual air bags and an optional four-wheel ABS.
Estimated Price Range for Used Ford Aspire: $1500-$6500
Estimated MPG for Used Ford Aspire: 25 City/31 Hwy
Available Trims: base, XLT
Below are Pre-Owned Ford Aspire from Ebay and 4 of the top used-car sites on the web:
[phpbay keywords="Ford Aspire" num="5″ siteid="1″ sortorder="BestMatch" templatename="default" paging="false" category="6001″]
From 1994-1995, one SE model included a tachometer, wheels with alloy and a rear spoiler. In also included an upgraded interior with fog lights and SE badging. Minor changes such as the inclusion of an oval grille and rounded headlamps were made in 1997.
However, it was mentioned in the book, The World's Worst Cars because of its tendency to rust. Other weak points include some problems with its chassis and break lamp assemblies which are prone to water leaks.
Preview of the Ford Aspire