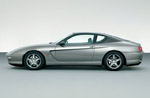 An overdue replacement for the 412, the 456 and 456 M is Ferrari's front-engined grand tourer. This high performance vehicle is available in GT and GTA forms. These two models are mostly the same except for the transmission. The GT has a six-speed manual transmission. The GTA, however, have a four-speed automatic transmission. The latter model was developed with Ricardo, a UK firm, as a partner.
456 has the engine displacement of 5.5 L 65 degrees V12 with 4 valves per cylinder. Its engine is able to produce 436 hp. It can travel with four passengers at the speed of 302 km/h making it the world's fastest four-seater vehicle. It weighs 1,690 kg. 456 M was released in 1998 with a few modifications. It has improved aerodynamics, cooling and new seats. Alongside with this changes are the removal of some gauges and the transfer of the stereo from the back to the front in front of the gear stick.
Estimated Price Range for Used Ferrari 456: $50,000-$95,000
Estimated MPG for Ferrari 456: 10 City/16 Hwy
Available Trims: GT, GTA
Below are Pre-Owned Ferrari 456 from Ebay and 2 of the top used-car sites on the web:
[phpbay keywords="Ferrari 456″ num="5″ siteid="1″ sortorder="BestMatch" templatename="default" paging="false" category="6001″]
There are also some rare versions of the 456. The first is the 456 GT Sedan. This version was said to have only two units and was made especially for Mr. Nafsas Al Khaddaja of Belgium. The Ferrari 456 GT Venice, wagon type, has only about seven units. This was made for Prince Jefri of Brunei. Although the prince has ordered seven units, he bought only six. The last is the Ferrari 456 GT Spyder. This convertible was built for the Sultan of Brunei. He had two unit of this model. There are also after market conversions, which were made by R. Straman Company in Costa Mesa, California. They made two of these and one of which now belongs to Mike Tyson.
Production Of Ferrari 456