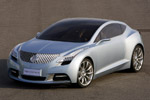 The Buick Riviera is one luxury car which has undergone several transformations throughout the years. Back when it was launched in the early 1960s, it was mainly characterized by rounded contours punctuated by bold character lines. It had a front-mounted V8 engine. It was General Motors' first bona fide luxury coupe. The running gear worked splendidly, but the car was not that cutting-edge. Overall, the earlier Riviera models had distinctive styling and performance.
Other noteworthy models include the 1971 boat-tail sports coupe and the 1979 S-Type which had a turbocharged V6 engine with front wheel drive and independent suspension. In 1995, the Riviera took on more changes in styling, comfort, performance and handling. By 2007, the Buick Riviera had become a show stopping two-door coupe which held its own in international car shows.
Carbon fiber body panels, plus other design elements reminiscent of the first-generation Riviera models were incorporated in the concept. The result is a stunning car with elegant curves and sweeping, unobtrusive features. Well-appointed interiors include plush leather bucket seats, carpeting and other tasteful details.
Estimated Price Range for Used Buick Riviera: $1,000-$30,000
Estimated MPG for Buick Riviera: 17 City/25 Hwy
Available Trims: Riviera base
Below are Pre-Owned Buick Riviera from Ebay:
[phpbay keywords="Buick Riviera" num="5″ siteid="1″ sortorder="BestMatch" templatename="default" paging="false" category="6001″]
Buick Riviera Concept