The 2012 Toyota Highlander Hybrid is one of the best SUVs available in the market.
It is ideal for taking your whole family anywhere whether it is for a road trip or soccer practice.
There's more, and here is an in-depth view to the potential benefits, drawbacks, and overview of the Highlander.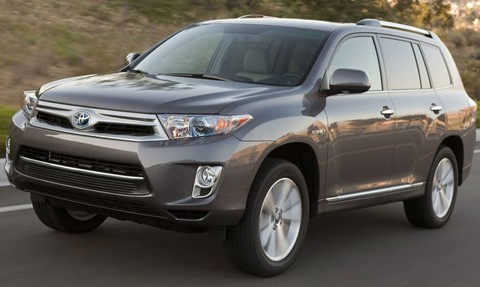 Specifications
General Info

| | |
| --- | --- |
| Vehicle Type: Midsize Hybrid SUV | Base Price: $38,540.00 |
| Fuel Tank Capacity: 17.2 gallons (65 liters) | MPG: 28 city / 28 hwy |
Dimensions

| | |
| --- | --- |
| Length: 188.8 in. (479.5 cm) | Wheel Base: 109.8 in. (278.8 cm) |
| Height: 69.3 in. (176 cm) | Width: 75.2 in. (191 cm) |
| Curb Weight: 4641 lbs (2105 kg) | Ground Clearance: NA |
| Luggage Capacity: 42.4 cu ft-behind 2nd row | Maximum Seating: 7 people |
Performance

| | |
| --- | --- |
| Engine: Hybrid 24-valve, 6 Cylinder DOHC | Displacement: 3.5 Liter |
| Horsepower: 280 HP | Transmission: ECVT |
| Max Towing Capacity: 3500 lbs (1588 kgs) | Maximum Speed: NA |
Available Trims & Engine

| | |
| --- | --- |
| Option:Hybrid Limited | MSRP: $44,195; MPG: 28 city / 28 hwy |
Overview
Based on Toyota's reliability and safety analysis, the Toyota Highlander Hybrid ranks 14th (of 23) among the most affordable midsize SUV. This vehicle has managed to rank high based on its great fuel economy, big and well made interior, classy exterior and powerful engine.
However, people have said that the driving experience as 'not fun'. When of course it has decent power level to handle any kind of task, its body roll rate can be problematic when making a turn at a corner. It also provides a low level of steering feel.
These negativities can be easily justified by the cars fundamental function. Nobody expects an SUV to run at the speed and with the excitement of a sports car. What we must understand is that people who are looking for a seven seat vehicle want them as a mean for transporting the whole family simultaneously; they have no intention of joining a race event with the car.
Thanks to the hybrid's good mileage and roomy interior, it can pretty much handle those needs perfectly. This is easily understandable that people who have reviewed the SUV as boring are used to reviewing sports cars.
Pros:
First advantage is its fuel economy. Its efficient engine build can save remarkably in proportion to its mileage. So the user is bound to save significantly during its utilization.
Second is its roomy and comfortable interior design. Its first and second rows are designed to ensure a relaxed and smooth ride. The engine provides sufficient power to get up and over the hills and traffic.
Cons:
The third row of the seats can get pretty uncomfortable if you try to fit more people than you need to.
As mentioned earlier, its driving dynamics are quite low and hardly leave any room for excitement.
The price can also be a deterrent. When of course you can save on fuel, you don't see the savings until later in the life of the vehicle.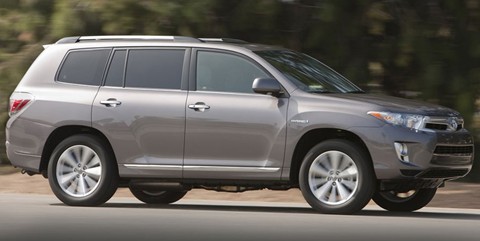 Versatility
So what types are more inclined to buy a hybrid? Without a doubt, people with families. The interior, ride and reliability and safe driving system is perfect for a family getaway or any other everyday ride.
When someone buys a vehicle for their family, the first thing they need to be sure of is its safety to use. So obviously, sporty people will not be satisfied with the 2012 Toyota Highlander Hybrid.
Thanks to its positive characteristics, people looking of a seven-seat SUV are bound to be attracted to this car compared to the other options available in the market.
Overall Rating


78 out of 100
What others say:
"The Hybrid got an impressive 27 mpg overall. Handling is not particularly agile and the steering feels vague. The easy-to-use controls and very good fit and finish make the interior pleasant."MSN Auto-ConsumerReports
"Combining seven-passenger seating with excellent fuel economy and performance, the 2012 Toyota Highlander Hybrid is a very appealing alternative to conventional crossovers."Edmunds