The 2012 Toyota Corolla continues Toyota's commitment to this line of smaller and more affordable cars.
However, what's worrying about this model and make of Corolla is that it's rated lower in 2012 than most other cars. Indeed, according to US News, the car ranked 40 out of 41. Sources like the Kelley Blue Book were equally unimpressed with this car.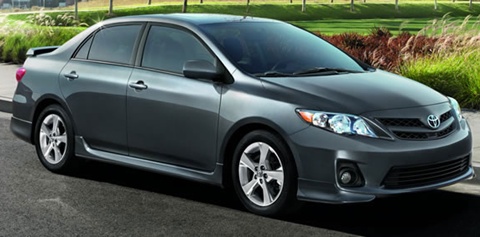 Specifications
General Info

| | |
| --- | --- |
| Vehicle Type: Sedan | Base Price: $16,890.00 |
| Fuel Tank Capacity: 13.2 gallons (50 liters) | MPG: 26 city / 34 hwy |
Dimensions

| | |
| --- | --- |
| Length: 180 in. (457.2 cm) | Wheel Base: 102.4 in. (260 cm) |
| Height: 57.5 in. (146 cm) | Width: 69.4 in. (176.3 cm) |
| Curb Weight: 2767 lbs (1255 kg) | Ground Clearance: 5.8 in. (14.7 cm) |
| Luggage Capacity: 12.3 cu ft | Maximum Seating: 7 people |
Performance

| | |
| --- | --- |
| Engine: 4 Cylinder, 16 valve DOHC | Displacement: 1.8 Liter |
| Horsepower: 132 HP | Max RPM: 6000 RPM |
| Torque: 128 lb-ft @ 4400 rpm | Transmission: 4-Speed ECT-i Automatic |
Available Trims & Engine

| | |
| --- | --- |
| Option:Corolla LE | MSRP: $17,910; MPG: 26 city / 34 hwy |
| Option:Corolla S | MSRP: $18,820; MPG: 26 city / 34 hwy |
Exterior
The exterior of the new Corolla is uninspiring. Though no one would call it ugly, no one merely buy the car for its good looks. At least one reviewer called it "frumpy." However, this wouldn't matter if the car's insides weren't also uninspiring.
Interior
Because it's so small, the Corolla isn't comfortable for taller drivers, even though the seats can be adjusted for height. Taller passengers in the back seat might find their knees mashed into the back of the driver's seat. Users also complain that though the steering wheel can be adjusted, it's difficult to do so.
The Corolla also has a 12.3 cubic foot trunk, though other cars of its size, like the Hyundai Elantra, have 15 cubic feet. Reviewers not only considered the trunk too small, they also considered it badly designed. The bumper lip and the hinges on the lid make it hard to stow things properly.
The car also doesn't have features like Bluetooth and USB port as standard equipment. Some users didn't mind this, as it made the controls simpler for them to wok. However, some also complained that the powertrain is, despite its name, not that powerful.
Performance
The performance is lackluster and the fuel economy, in this day of high gas prices, is low. The Corolla averages about 28 miles per gallon in the city and 35 miles per gallon on the highway.
These rates are lower if the car has automatic transmission. Similar cars like the Elantra and the Chevy Cruze can get up to 40 miles per gallon on the highway. The Corolla's 1.8 liter engine has four cylinders and 132 horsepower and the car labors when it has to go up a hill and has trouble merging and passing. It has a wildly outdated manual transmission. The Corolla is good for getting to work and back.
Trims
The 2012 Corolla comes in L, LE and S trim. The L trim now sports power windows and door locks and has a keyless, remote control entry. The LE and S have USB ports, Bluetooth and standard audio. The system is mounted on the steering wheel in the LE and S trims.

Safety
While nothing else about the Corolla fired the imagination of reviewers, the car got high marks for safety. It is considered a Top Safety Pick by the Insurance Institute for Highway Safety. However, as of this writing it hasn't been fully tested by the federal government. The Corolla's basic warranty is for 36,000 miles or three years. Again, there are cars of its type that have better warranties.
Competition
There are a number of compact sedans that vie for attention against the Corolla, among them are the Honda Civic (MSRP $16,745; 28 city / 36 hwy), Nissan Sentra (MSRP $17,030; 24 city / 31 hwy), and the Hyundai Elantra (MSRP $16,120; 29 city / 40 hwy) which has the most attractive price and best mpg among these sedans.
Overall Rating


65 out of 100
What others say:
"In general, the Corolla is softly sprung and lacking a handling and ride sophistication that many rivals now have. The electric power steering is dull and overly light, and that combined with the suspension makes the Corolla feel out of sorts on a curvy road."Car Connection
"Compared to many rivals, the Corolla is relatively conservative in design and execution, though recent updates have made available some modern features such as wireless cell-phone link and Toyota's Entune infotainment system."Consumer Guide
"The rather bland Corolla is a good small sedan. We got a very impressive 32 mpg overall in our test of the 1.8-liter, among the best for a current non-hybrid or diesel four-door sedan. Curtain air bags are standard."MSN Auto-ConsumerReports
"Among newer (and better) rivals, the 2012 Toyota Corolla is no longer a class leader. In the absence of any significant improvements, we suggest checking out the competition first."Edmunds
"The 2012 Toyota Corolla's reputation for longevity is legendary, as is its high resale value and fuel economy figures. Yet over the years, Toyota has become complacent with the Corolla, allowing the front-wheel-drive sedan's design to stagnate, its features to become antiquated, and its core audience to grow much older."KBB