At one time, Vans were considered as the most versatile vehicle on the road. You could use it for nearly any purpose. You're able to haul cargo, use it for work, and for the family. This signaled the arrival of the minivan.
People saw the usefulness of a vehicle that had enough room for a growing family. Not only could it transport people, you could turn the seats down and have enough room to haul groceries, large cargo items, and yes, even laundry. The most popular form of van today is the minivan, which seats up to 7 people. In today's economy, finding a minivan that is spacious and fuel efficient are equally important.
Best Gas Mileage Vans/Minivans in the U.S. – Top 10 List:
1. Mazda 5: 21 City / 28 Hwy (24 Avg.), Base Price: $19,625.
Powered by a 2.5L 4-cylinder engine with 157 horsepower, has enough seating for 6 and a cargo capacity of 44.4 cu ft (3rd row down). Perhaps the least expensive and economical, the Mazda 5 has been one of the more popular minivans available. It comes with passenger sliding doors and available in three options: Sport, Touring, and Grand Touring. The Sport trim is one of the most fuel efficient minivans for less than $20,000.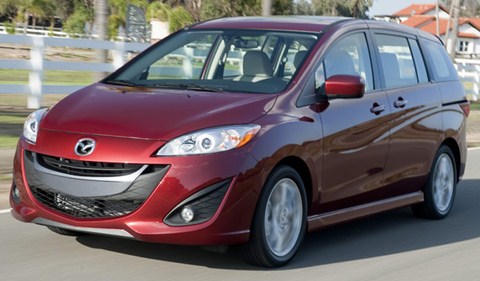 2. Ford Transit Connect XLT Wagon: 22 City/27 Hwy (24 Avg.), Base Price: $23,660. Coming in with a 2.0L Duratec inline 4-cylinder, the Connect accommodates 5 people comfortably with cargo capacity of 78.4 cu ft behind the 2nd row of seats. Although not exactly a minivan, the Ford Transit Connect Wagon provides the same purpose as that of a minivan. There are two passenger options, the XLT and the XLT premium wagon.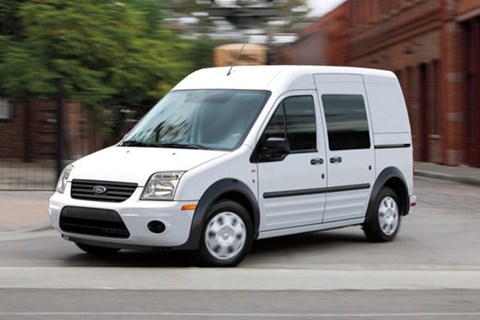 3. Honda Odyssey: 19 City/28 Hwy (23 Avg.), Base Price: $28,375.
A 3.5L 6-cylinder with 248 horsepower, this 6-speed automatic minivan can seats 8 adults. The Odyssey is a versatile vehicle that transports the family in luxurious comfort. The base LX model is followed by the EX, EX-L, Touring, and the Touring Elite options. Each one improving your Honda Odyssey experience.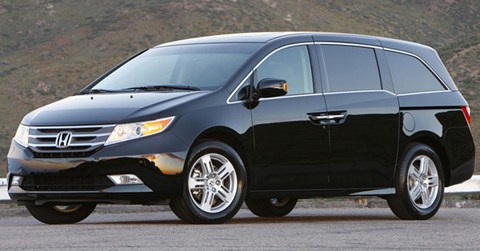 4. Nissan Quest: 19 City/24 Hwy (21 Avg.), Base Price: $25,990.
Equipped with a 3.5L, 260 horsepower engine and an Extronic CVT drivetrain, this Nissan midsized minivan carries 7 people and has a capacity for 63.6 cu ft of cargo volume. The Nissan Quest is available in four different trims, the base S, SV, SL, LE models. There are slight differences in total volume on the interior whether or not you have moonroof or not. With a moonroof, the total passenger volume is 170.9 cu ft, without, it is 177.9 cu ft.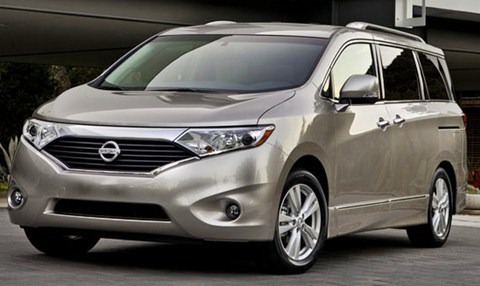 5. Toyota Sienna: 19 City/24 Hwy (21 Avg.), Base Price: $25,060.
Helped by an economical but powerful 2.7L, 187 hp, 4-cylinder engine, the four door Sienna allows seating for 7 and 39.1 cu ft of cargo space behind the 3rd row. Staying true to Toyota tradition, the Sienna has been one of the most visible minivans on the road today. In addition to the spacious qualities, the Sienna is available in numerous trims with various options. The top of the line XLE AWD is a V6 with 266 HP.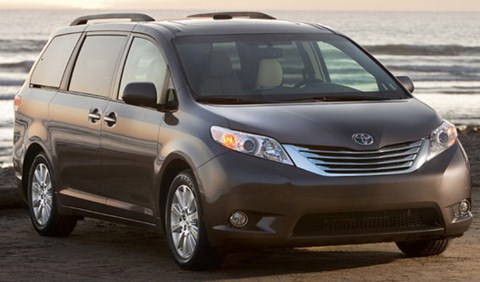 6. Kia Sedona: 18 City/25 Hwy (21 Avg.), Base Price: $24,900.
A 3.5L 271 HP V6 helps this minivan from Kia transport 7 comfortably with 32.2 cu ft for cargo left. Kia's entry into the minivan market has been given a warm reception. Available in two trims, the base LX and the EX, the Sedona is considered a full-sized minivan. The base model is enhanced with front and rear air conditioning, Bluetooth Voice recognition capacity, and a full audio system with six speakers.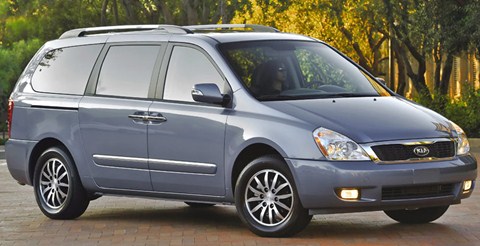 7. Chrysler Town & Country: 17 City/25 Hwy (21 Avg.), Base Price: $29,995. This 3.6L Penstar V6, 283 HP is able to fit up to 7 people with no problem at all at 163.5 cu ft. Long considered a standard as far as minivans go, the Town & Country exudes a certain class that has been the standard for all other minivans. The versatility and standard options that come with it has made it very attractive to those who need the room and comfort expected from their vehicle. Leather seating and DVD now comes standard on the new Town & Country. It comes in three trims, the Touring, Touring-L, and the Limited.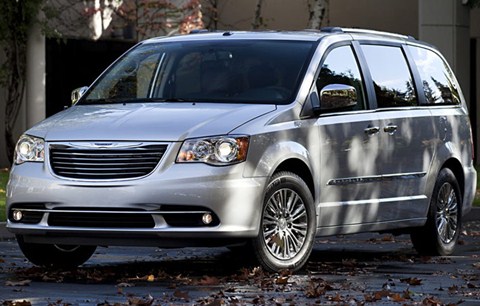 8. Dodge Grand Caravan: 17 City/25 Hwy (20 Avg.), Base Price: $20,995.
This 3.6L Penstar V6, 283 HP, 263 lb-ft of torque at 4300 rpm, is able to fit up to 7 people with no problem at all at 163.5 cu ft of passenger volume.
A sister to the Town & Country, the Grand Caravan used to be referred to simply as a Caravan. Over the years, Dodge has enhanced the brand by offering 5 different trims to the Grand Caravan name, the base AVP, the SE, SXT, Crew, and the R/T. With its towing package, the Grand Caravan can tow up 3,600 lbs.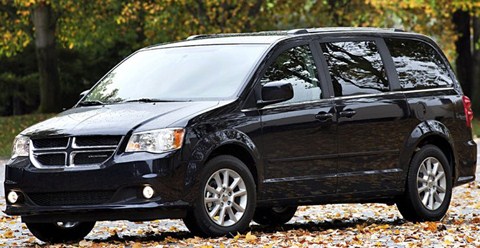 9. Volkswagen Routan: 17 City/25 Hwy (20 Avg.), Base Price: $27,000.
Powered by a 3.6L 283 HP V6 engine, the Routan can accommodate 7 people comfortably with a total of 163.5 cu ft. and with 83.0 cu ft of cargo volume with seats folded. Following in the footsteps of the Volkswagen Bus and the Vanagon, the Routan has certainly caught the attention of many. Available in four trims beginning with the S, the SE, SE w/ RSE, and the SE w/ RSE & Navigation. Making the ride comfortable is its three-zone air conditioning and dual power sliding doors and windows.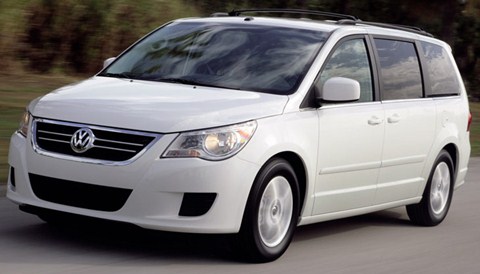 10. Chevrolet Express 1500 Cargo Van: 15 City/20 Hwy (17 Avg.), Base Price: $25,090. A hefty 4.3L, 195 HP engine helps this lone cargo van make the list. It has a cargo volume of up to 270 cu ft of space, along with seating for 2. The Express Van comes in at 224.1 inches in length and has the ability to tow up to 6700 pounds. The good news is that if you need something more for heavy duty work, the Express is available in 4 other engine options.