TECHART Automobildesign GmBh has presented its cutting-edge TECHART GTstreet RS; it is based on the Porsche 911 GT2. Ever since 2001, a TECHART GTstreet vehicle has been considered the fastest and highest performance sports car in the world. The GTstreet RS's performance has been reflected in the GTstreet RS's statistics – 700 PS and 515 KW – with a maximum torque of 860 Nm.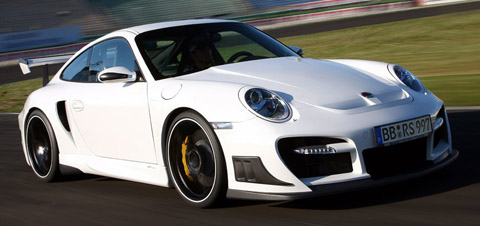 The power is achieved through the modified turbochargers, enlarging carbon inlet pipes, specially developed intercoolers. GT RS front apron is fitted with carbon splitter, a special air duct has been constructed to enable cool air directly behind the radiator and over the newly created air outlet.
Reducing the buoyant force on front axle, it acts as a down force for the counterpart. The RTstreet has been crowned as a street-worthy car with its impressive performance, an astonishing 1.06 min. lap time on the Hockenheim course emphasis.

GTstreet RS has its goals set on by becoming the world's fastest and powerful car in the world. Also additional accessories can be used to enhance your car's needs, such as aluminum pedals, 3-spoke sports steering wheels, and an illuminated door.