Roush Performance has been continuing their homage to the legendary World War II fighter plane with the 2009 P-51B Mustang, the second aviation themed pony car from the Michigan-based manufacturer.

In the previous 2008 Roush P-51A Mustang, introduced from the 2009 Ford Mustang chassis, will be limited to only 51 numbered production vehicles in the 2009 model year. Among the changes to the 2009 P-51B are a secondary sheave FEAD, the addition of the Roush 6-piston brakes which can be seen throughout the new black chrome wheels, and a Roush vent pod gauge with a boost gauge.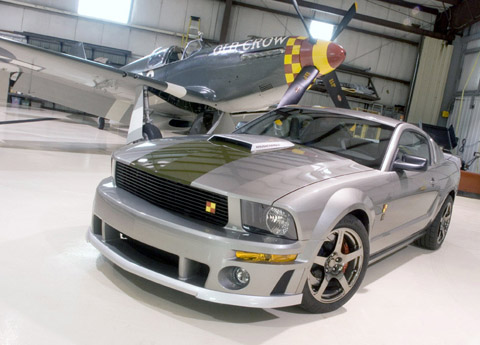 "The 2009 Roush P-51B is really the closest thing we can do to truly match the performance and styling of the fighter plane," said Jack Roush. "Just like the airplane, the P-51B Mustang has the power to outrun most anything, can turn like virtually nothing else, and will make those other 'pilots' have second thoughts before engaging in a skirmish." As with all Roush vehicles, the 2009 P-51B has an industry-leading 3 year/36,000 mile warranty.