The GT2 reigns as the most powerful Porsche wearing the 911 badge. But Porsche tuner SpeedART is not satisfied enough and decided to increase the performance by a few more notches up again with the introduction of the 2008 SpeedART BTR XS 650 based on its predecessor 911 GT2. The name is the short form of BiTurbo Racer Extra Speed with 650 horsepower.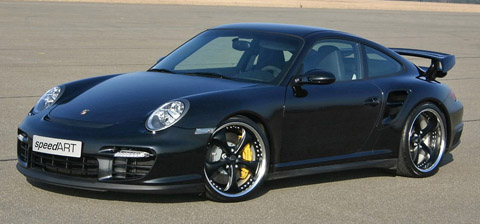 2008 SpeedART BTR XS 650 is a black beauty which is loaded with a lot of goodies under the hood. The power of the 2008 SpeedART BTR XS 650 is increased by 120 horse power with the help of a sport exhaust with twin tailpipes and higher flowing cats, new headers, a bigger intercooler, modified VTG turbochargers and a Motronic ECU that controls the flat 6 cylinder unit's power. Thus the resulting horse power of a 2008 SpeedART BTR XS 650 is 650 horse power. The 2008 SpeedART BTR XS 650 flies from 0 to 60 mph in about 3.2 seconds and does not stop until it reaches an unbelievable top speed of 216 mph.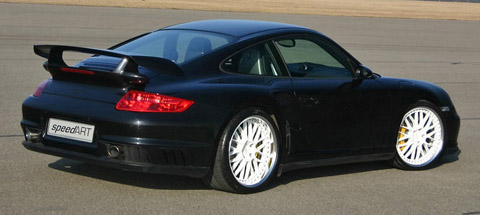 The tuned 911 GT2 sits on huge 20 inch wheel sets in black or white to complete the elegant yet sporty Porsche look. This combined with coil over shocks for support all around helps to keep the 2008 SpeedART BTR XS 650 on the ground while going around corners. The whole kit is available for the equivalent of $43,450 and includes some additional interior design options like sport seats, steering wheels and special Alcantara applications.