The Porsche RS Spyder is a LMP2 (Le Mans Prototype) race car manufactured by Porsche.
With the launch of RS Spyder, Porsche also marked its return in the car racing since the finish of Porsche 911 GT1 in the 1998 season and also the RS Spyder marks the Porsche return in the 24 Hours of Le Mans.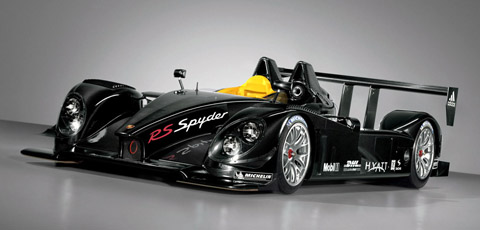 In the year 2005, the Porsche RS Spyder made its debut at the American Le Mans Series, Mazda Raceway Laguna Seca. The RS Spyder was victorious at Laguna Seca which was driven by Lucas Luhr and Sascha Maassen and stood in the first and fifth places.
In the year 2006 the RS Spyder participated in the 12 Hours of Sebring which was driven by Lucas Luhr where it set a record of completing a lap in less than 1:50 minutes and stood in the second place. It also participated in the Third ALMS Race which was also a success.
On September 28, 2006, the new 2007-Spec RS Spyder was displayed at the Paris Motor Show where the power has been increased in the new RS Spyder. Two units of the new RS Spyder have been purchased by the Dyson Racing Team for the 24 Hours of Le Mans, however the RS Spyder had not participated in the 2007 24 Hours of Le Mans.
For the year 2008, Porsche launched an updated version of RS Spyder which was driven by Jeroen Bleekemolen, Jos Verstappen and Peter van Merksteijin along with Essex team which stood in second place.
Specifications
Class: race car
Engine: 3.4liter V8
Transmission: 6-speed sequential
Power: 480bhp and 503 bhp
Weight: 775 kg