The Porsche 968 is a sports car manufactured by Porsche in between the years 1992-1995.
The Porsche 968 is the predecessor of Porsche 944, where 20% of the Porsche 944 parts have been used in the Porsche 968. The 968 is an updated version compared to the Porsche 944 where a new 3.0 liter engine has been used in the place of Porsche 944's straight-4 engine, that delivers an output power of 236 hp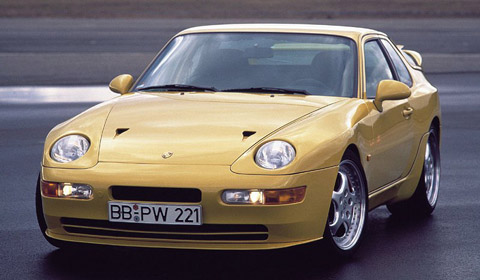 The additional features in the Porsche 968 are, it includes a new VarioCam variable valve timing system, dual-mass flywheel, electronic equipment, exhaust systems, updated engine and several other minor features. The Porsche 968 engine was considered the second largest 4-cylinder engine at the time of its production. A 6-speed manual transmission has been used and also Tiptronic automatic is an additional option.
Club Sport
In the year 1993, the "Club Sport" version has been launched. The luxury options in the Porsche 968 has been taken out in the Club Sport version, where the car consisted of electric windows, less sound deafening material, and A/C and sound systems were available optionally. The seats are of weighed less because it was covered with leather and was manually adjustable.
Turbo S 968
The Turbo S 968 version has been launched after the Club Sport. The Turbo S 968 is a high performance car which reaches the speed of 60 mph in just 4.7 seconds and attains a top speed of 180 mph. only 15 units of Turbo S 968 has been produced where all the units have been sold in Europe.
Turbo RS 968
The Turbo RS 968 was manufactured for the race teams in between the years 1992-1994. The Turbo RS 968 is a two seater which contains K27 turbocharger and delivers an output power of 337 bhp. Also another variant was launched in the Turbo RS 968 which consists of KKK L41 turbocharger and delivers an output power of 350 bhp.
Specifications
Body Style: 2-door coupe, convertible
Class: sports car
Engine: 3.0 L I4
Transmission: 6-speed manual, 4-speed Tiptronic
Wheel base: 2,400 mm
Height: 1,275 mm
Length: 4,321 mm
Width: 1,735 mm
Weight: 1,400 kg