The Porsche 959 is a sports car produced by Porsche in between the years 1986 to 1989.
The Porsche 959 was first a Group B rally car; later it was a production car. At time of its production, the Porsche 959 was considered as the most technologically advanced sports car. It was also the high performance car where all the four wheel drive system has been used. In the year 2004 the Porsche 959 has been listed in the top spot in the "Top Sports Cars of 1980s".
The Porsche 959 consists of a twin turbocharged six cylinder engine with water cooled heads and air cooled block. The water cooled cylinder mixes with the air cooled block, turbochargers and the 4-valve head to take out the 444 hp from the power unit.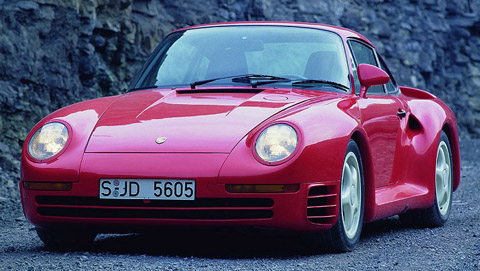 The aerodynamics has been modified in order to increase the stability for the automatic ride height adjustment. The 959 also contained the Porsche Steuer Kupplung which was considered as the advanced wheel drive system at the time of its production.
In the year 1985 the street version of the Porsche 959 has been launched at the Frankfurt Motor Show which was later available from the year 1986. The car was produced in two levels which are "Komfort" and "Sport". A total of 337 units were produced in the street version, finally the production of the 959 came to an end in the year 1988. The Porsche 959 is also the winner at Paris Dakar Rally held in the year 1986.
Specifications
Body Style: - 2-door coupe
Class: - sports car
Engine: - turbocharged flat-6
Displacement: - 2847 cc
Transmission: - 6-speed manual
Wheel base: - 2,272 mm
Height: - 1,280 mm
Length: - 4,260 mm
Width: - 1,840 mm
Weight: - 1,450 kg
Porsche 959 Overview